Current Loop Controller works with motorized potentiometers.
Press Release Summary: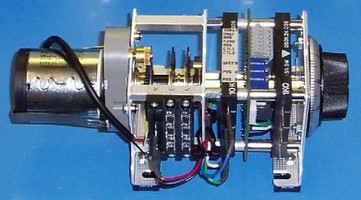 Able to automate existing systems, MR267 remotely controls motorized potentiometer and/or rotary cam switch via 4-20 mA current loop, 0-2.5 V input, or external potentiometer. User-specified potentiometers provide absolute positional feedback information or function as variable resistor in analog control or bridge circuit. Rotary limit switches are programmed, via cams, to electrically control events or provide status at pre-stages.
---
Original Press Release:

MICRONOR Introduces Motorized Potentiometers With 4-20mA Input Control



Newbury Park, California, November 16, 2005 - Micronor's new MR267 Current Loop Controller (CLC) option remotely controls a motorized potentiometer and/or rotary cam switch via 4-20mA current loop, 0-2.5V input or external potentiometer. The MR267 offers a simple and inexpensive solution for automating existing systems controlled by manually-operated potentiometers, rheostats or rotary cam switches.

Motorized potentiometers (a.k.a. motor pot) and rotary cam switches are used in a variety of industrial automation and process control applications. They are simple to use and easy to set up. No computers required or software to write. Easy to maintain and never obsolete. The user-specified potentiometers provide absolute positional feedback information or function as a variable resistor in an analog control or bridge circuit. The motor pot provides a smooth uniform ramp throughout its timing cycle. Rotary limit switches are programmed (via cams) to electrically control events (or provide status) at pre-stages. A few common applications include ramping up the field current of a DC motor or controlling the start-up of a generator.

These products are available in a wide variety of configurations including number and type of pots (single or multiturn, 2-170 watts, wire wound or composite), number and type of cam switches (electromechanical or optical), cycle time (5 sec to 24 hours) and packaging (DIN rail mount, panel mount, open frame, light duty or NEMA 4/4X heavy duty enclosure). When the CLC option is specified, the MR267 control board, a MR267-dedicated rotational feedback pot and 12V DC motor are added to the configuration.

The MR267's firmware incorporates three trimpots which can alter the conventional operating mode and scale of the motor pot. For applications where analog control circuits operate only within a narrower region of a pot's full scale range, POS A and POS B trimpots are used to program positional offsets corresponding to the lowest (4mA) and highest (20mA) input values. A third trimpot, SPEED, allows the timing cycle to be fine adjusted.

To install a Micronor motor pot/cam switch with the MR267 CLC option operating in standard 4-20mA mode, simply:

1. Connect power (+24V DC), ground and 4-20mA control signal to the MR267 control board.

2. Wire the User-specified potentiometers to the analog control circuit(s).

3. Program the cams with the supplied cam programming tool and connect the limit switches (COMMON, NO, NC) relative to each step in the process

4. The motor pot/cam switch is now ready for remote current loop control. An input in the range of 4-20mA will command the potentiometer to move to the corresponding setting within 0-100% of full scale -at a speed corresponding to the user-specified cycle time.

The MR267 CLC option operates from commonly available 24V DC. The operating temperature range is -10°C to +65°C; with a storage temperature range of -20°C to +75°C. In small quantities, a typical MPP series single-turn motor pot configuration with two cam switches and MR267 option is $612 each and available 2-3 weeks ARO.

About Micronor

Micronor is a leading supplier of reliable and rugged components for industrial automation and process control industries as well as military, aerospace and other harsh environment applications. Motion control products include encoders, resolvers, cam timers, programmable limit switches, motorized potentiometers, pulse generators and ergonomic pendant stations. Micronor was founded in 1968 and has regional headquarters in both the United States and Europe.

CONTACT INFORMATION:

Dennis Horwitz
Vice President, Sales & Marketing
Micronor Inc.
TEL: (805) 499-0114
FAX: (805) 499-6585
EMAIL:dennis.horwitz@micronor.com
http://www.micronor.com