Current and Voltage Transformers range from 7.2-36 kV.
Press Release Summary: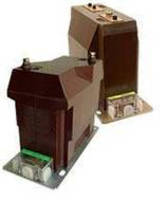 Constructed of epoxy and polyurethane resins, ITI Indoor Medium Voltage Instrument Transformers are available in 7.2, 12, 17.5, 24, and 36 kV classes. Units have been designed, manufactured, and tested in accordance with IEC standards. Available in custom designs, transformers are suited for operating meters, instruments, relays, and control devices.
---
Original Press Release:

GE Digital Energy Introduces New Indoor IEC Medium Voltage Current and Voltage Transformers, Available from 7.2kV to 36kV Classes



Bilbao, Spain - July 21, 2009 - GE Digital Energy announces a new family of ITI Indoor Medium Voltage (MV) Instrument Transformers that includes voltage and current instrument transformers in the 7.2kV, 12kV, 17.5kV, 24kV and 36kV classes. These new instrument transformers, ideal for operating meters, instruments, relays, and control devices, compliment GE Digital Energy's existing IEEE ITI Indoor and Outdoor Low and Medium Voltage Instrument Transformers, which have been used in North America for over 30 years.

With the introduction of GE Digital Energy's ITI Indoor IEC MV family, utilities and OEMs in Latin America, Europe, the Middle East, Africa, and Asia, can now get their transformers from one source, and be assured that the transformers have been designed, manufactured, and tested in accordance with IEC standards. The new ITI Indoor IEC MV Instrument Transformers, available in custom designs, are compact in size and designed to utilize a minimal amount of space in medium voltage switchgear.

The GE Digital Energy ITI Indoor IEC MV transformers are manufactured and tested using state-of-the-art technology, helping to ensure high availability, reliability, consistency, and shorter manufacturing lead times. The transformers are constructed of epoxy and polyurethane resins. Epoxy resin transformers are manufactured using automated pressure gelation (APG) technology. Computer controlled resin mixing and casting processes result in shorter manufacturing lead times and proven product consistency. Polyurethane resins are poured under vacuum to maintain the highest insulation integrity.

For more information on the ITI Indoor IEC MV Instrument Transformers, visit: www.gedigitalenergy.com/ITI/.

About GE Digital Energy

GE Digital Energy, a division of GE Enterprise Solutions, protects and connects the world's critical equipment to ensure safe, reliable power. It is a global leader in protection and control, communications, power sensing and power quality solutions. GE Digital Energy's products and services increase the reliability of electrical power networks and critical equipment for utility, industrial and large commercial customers. From protecting and optimizing assets such as generators, transmission lines and motors, to ensuring secure wireless data transmission and providing uninterruptible power, GE Digital Energy delivers industry-leading technologies to solve the unique challenges of each customer. For more information, visit www.gedigitalenergy.com.

About GE Enterprise Solutions

GE Enterprise Solutions elevates customers' productivity and profitability with integrated solutions using sensors and non-destructive testing; security and life safety technologies; power system protection and control; and plant automation and embedded computing systems. Enterprise Solutions' high-tech, high-growth businesses include Sensing & Inspection Technologies, Security, Digital Energy, and GE Fanuc Intelligent Platforms. The business has 17,000 problem-solving employees in more than 60 countries around the world.

Media Contact:

Donna Mirandola

Communications Manager

GE Digital Energy

Phone: (905) 201-2407

E-mail: donna.mirandola@ge.com

More from Material Handling & Storage