CSS Series Now AEC-Q200 Compliant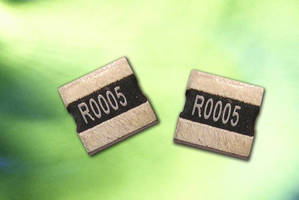 RALEIGH, NC — Stackpole's CSS Series are surface mount precision current sense resistors with all metal construction. This series is known for outstanding low TCR down to ±25 ppm, tolerances down to ±0.5%, and resistance values as low as 0.25 milliohm. Stackpole has now achieved AEC-Q200 qualification for all sizes.



Per AEC-Q200, the resistors must have an operating temperature range of -55C to +150C and survive a wide range of electrical and mechanical stress tests including exposure to high temperatures, temperature cycling, high temperature operational life, biased humidity, ESD, board flex, and terminal strength. Components qualified to AEC-Q200 provide engineers additional assurance that they are designing in a robust and reliable component.



Pricing for the CSS is size, resistance value, and tolerance dependent and ranges from $0.19 to $1.35 each in full reel quantities. Contact Stackpole or one of our franchised distributor partners for volume pricing. Many popular sizes and resistance values are in stock.



For more information about Stackpole products, contact Stackpole Electronics, Inc. at 2700 Wycliff Road Suite 410, Raleigh NC 27607; phone 919-850-9500; email marketing@seielect.com; or visit the website at www.seielect.com.



Stackpole Electronics Inc. is a leading global manufacturer of resistors supplying to the worlds largest OEMs, contract manufacturers and distributors. Headquartered in Raleigh, N.C., the privately held company began manufacturing in 1928 as part of Stackpole Carbon Company in St. Mary's, Pennsylvania. Now affiliated with Akahane Electronics, Stackpole has manufacturing facilities in Japan, Taiwan, China and Mexico; warehousing facilities in El Paso, Hong Kong and Japan; and sales offices in Tokyo, Hong Kong and Taiwan.





More from Electrical Equipment & Systems