Crystallization Plate has low-profile design.
Press Release Summary: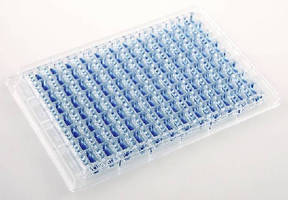 Constructed from optically clear, UV-transmissible, chemically resistant plastic, CrystalMation(TM) Intelli-Plate(TM) 96-3 is built to SBS standard dimensions. There are 8 vertical reservoirs versus 12 horizontal reservoirs and 3 identical well locations for sample per reservoir. Each identical well has round bottom to facilitate crystal harvesting, each drop well can hold up to 1 µl of sample, and flat-bottomed reagent reservoir can hold up to 100 µl of reagent.
---
Original Press Release:

CrystalMation(TM) Intelli-Plate(TM) 96-3 Low-profile Crystallization Plate



The NEW CrystalMation Intelli-Plate 96-3 well low-profile crystallization plate is designed for sitting drop vapor diffusion crystallization experiments. The CrystalMation Intelli-Plate is constructed from optically clear, UV-transmissible, chemically resistant plastic with superior low birefringence. The low-profile construction allows for higher density in plate storage and imaging systems, maximizing your investment and valuable space. The new CrystalMation Intelli-Plate 96-3 is also designed to be a substantial improvement in existing low-profile plates allowing for superior sealing due to thicker well design and a flat sealing surface. It has been built to the SBS (Society for Biomolecular Screening) standard dimensions with 8 vertical reservoirs versus 12 horizontal reservoirs and is compatible with automated instrumentation including the CrystalMation line of instruments from Rigaku.

This plate features three identical well locations for sample per reservoir. The multiple well design allows for combinatorial experiments, complex co-crystallization experiments for ligand screening or for drop concentration variation. The sample drop locations are located along the left side of the reagent reservoir, along the Y-axis of the plate. The sample wells are concave depressions on the ledge above the adjacent, flat bottom reagent reservoir. Each identical well features a round bottom for easy crystal harvesting. Each drop well can hold up to 1 µl of sample. The reagent reservoir is typically filled with 50 to 70 µl of reagent and is capable of holding up to 100 µl of reagent. The vertical wells are labeled A-H along the left side of the plate and the horizontal wells are labeled 1-12 along the top of the plate.

The NEW CrystalMation Intelli-Plate 96-3 may be ordered with pre-printed barcodes for "drop in" use in high-throughput crystallization labs. The plates can be sealed using Crystal Clear Sealing Film, 3 inch wide Crystal Clear Sealing Tape or ClearSeal Film(TM).

CrystalMation Intelli-Plate 96-3 features:

Low-profile SBS format crystallization Pplate

Low-birefringence and compatible with UV imaging systems

96 central reservoirs with 3 wells per reservoir

100 µl reservoir volume and 1 µl well volume

500 plates per case

CrystalMation Intelli-Plate 96-3

More from Communication Systems & Equipment