CRP Automotive Wins 2019 Best Functional Fluid Award for Pentosin ATF 9 Automatic Transmission Fluid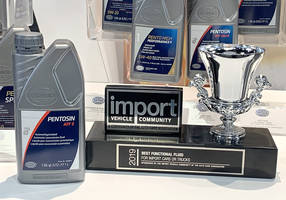 Award presented by Import Vehicle Community during 2019 AAPEX
Cranbury, NJ… CRP Automotive (crpautomotive.com), a leading source of OE-quality replacement and service parts, received the Best Functional Fluid Award for its Pentosin ATF 9 Automatic Transmission Fluid (Part No. 1058111). The award was presented by the Import Vehicle Community at their annual Import Products and Marketing Awards ceremony during the 2019 Automotive Aftermarket Products Expo (AAPEX) Show in Las Vegas, NV.
The Pentosin ATF 9 Transmission Fluid is a fully synthetic, high performance automatic transmission fluid (ATF) for life-time application in automatic gearboxes. It was specifically formulated with reduced viscosity to optimize the performance of the latest 8 and 9-speed ZF automatic transmissions. Pentosin ATF 9 is designed to deliver outstanding friction control to ensure excellent shifting performance. It also provides ultimate wear protection and anti-shudder performance. In addition to applications for European and Asian vehicles, Pentosin ATF 9 also offers coverage for domestic vehicles. Pentosin ATF 9 meets the strict requirements of BMW ATF3+ and Honda Type ATF3.1.
About the Pentosin Brand
Pentosin is well known as a leading innovator and manufacturer of high-tech automotive fluids for Asian and European vehicles. Pentosin is approved and recommended for use as both initial fill (OEM) and service refill by over 30 international automotive manufacturers. By partnering directly with the car manufacturer, Pentosin is able to develop unique fluids to meet today's challenging technical innovations for a wide range of applications. CRP Automotive offers a Pentosin program of antifreeze, brake fluids, hydraulic fluids, motor oil, and transmission fluids.
About CRP Automotive
CRP Automotive is a leader in the manufacture, marketing, and supply of OE quality import automotive parts. CRP provides some of the industry's leading brand names, including Rein® Automotive Parts and Accessories, Pentosin Technical Fluids, AAE Steering System Components, and AJUSA Engine Parts. All products are backed by the CRP promise of quality and superior service. Founded in 1954, CRP Automotive has established a solid reputation for exceeding its customers' expectations. CRP maintains key manufacturing and distribution centers in the NAFTA market. For additional information, visit: crpautomotive.com
Contact:
Monika LaPrete
Marketing Communications Director
CRP Automotive
35 Commerce Drive
Cranbury, NJ 08512
Phone: (609) 578.4100
Fax: (609) 578.4050
Email: mlaprete@crpindustries.com
Media Contact:
Tony Barolin
Barolin & Spencer
800-536-6222
tbarolin@barolin-spencer.com
More from Machinery & Machining Tools