Crown Mats Industrial Deck Plate Antifatigue Mat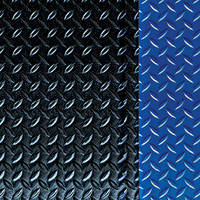 Crown Mats Industrial Deck Plate antifatigue mats have a slip-resistant surface and durable, industrial-grade, PVC foam backing.

Not only do these mats help minimize worker fatigue, they are resistant to most common fluids and chemicals and have beveled edges to help increase safety by reducing the risk of tripping.

Designed for medium to heavy traffic areas, the Industrial Deck Plate antifatigue mats come in different colors and have an optional yellow border to add visibility and safety.

For more information, visit www.crown-mats.com or call toll-free: 800-628-5463.

About Crown Mats and Matting

For more than 60 years, Crown Mats and Matting has been a pioneer in the development and manufacture of matting products. Beginning with the invention of walk-off matting by the company's founder, R.P. Johnson, the company now has the most diverse matting product line offered in our industry. Crown sells matting through an extensive network of highly trained sales representatives throughout the United States and worldwide. These sales experts are familiar with the features and benefits of all matting systems and are able to help their clients find the right system for virtually any application.

Contact:

JoAnne Boston

1-800-628-5463

Providing educational articles and information for the professional cleaning, building, hotel, hospitality, medical, and educational industries.


More from Machinery & Machining Tools