Crosspoint Switches ensure low noise and low jitter.
Press Release Summary: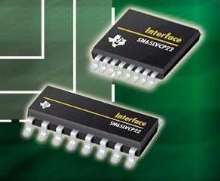 Models SN65LVCP22 and SN65LVP23 are 2 x 2 crosspoint switches that provide 2:2 buffering, 1:2 splitting, and 2:1 multiplexing. Model SN65LVCP22 supports LVPECL/CML to LVDS level translations, while Model SN65LVCP23 supports LVDS/CML to LVPECL level translations. Both feature 50 ps peak-to-peak jitter, 1.7 ns switch time, and operating temperature of -40 to +85°C. They meet redundant serial bus transmission needs of fault-tolerant systems.
---
Original Press Release:

TI Crosspoint Switches Ensure Low-Noise, Low Jitter in Fault-Tolerant Systems


DALLAS (September 17, 2003) - Designers of fault-tolerant systems can significantly reduce noise and jitter with the introduction of two new 2x2 crosspoint switches from Texas Instruments Incorporated (TI) [NYSE: TXN. Announced today, the switches provide high-speed operation and use a fully differential data path to ensure low-noise generation, fast switching times, low pulse width distortion and low jitter. A single device is provided to support the redundant serial bus transmission needs of fault-tolerant systems found in applications such as optical networking, wireless infrastructure and data communications systems. (See www.ti.com/sc03197.) The SN65LVCP22 and SN65LVP23 2x2 crosspoint switches support 2:2 buffering (repeating), 1:2 splitting, 2:1 multiplexing and 2x2 switching. In addition, the devices incorporate wide common-mode (OV to 4V) receivers, allowing for the receipt of LVDS, LVPECL and CML signals. The SN65LVCP22 supports LVPECL/CML to LVDS level translations and the SN65LVCP23 supports LVDS/CML to LVPECL level translations. To establish accurate alignment of outputs in all applications, the output channel-to-channel skew is less than 10ps (typical) and 50ps (maximum).

Additional Features of the SN65LVCP22
o Low-Jitter, High Speed (>1000 Mbps)
o 50ps of Peak-to-Peak Jitter with PRBS = 223-1 Pattern
o <200 mW (typical), 300mW (maximum) Total Power Dissipation
o 1.7 ns Fast Switch Time
o 0.65 ns Fast Propagation Delay
o -40oC to 85oC Operating Temperature
o Inter-Operates with TIA/EIA-644-A LVDS Standard

Additional Features of the SN65LVCP23
o 50ps of Peak-to-Peak Jitter with PRBS = 223-1 Pattern
o 1.7 ns Fast Switch Time
o 0.75 ns Fast Propagation Delay
o -40oC to 85oC Operating Temperature

Availability, Packaging and Pricing
The SN65LVCP22 and SN65LVCP23 are available now from TI and its authorized worldwide distributors in 16 lead SOIC and TSSOP packages. Suggested resale pricing in 1,000 piece quantities is $3.89 for the SN65LVCP22 and $4.95 for the SN65LVCP23.

Texas Instruments Incorporated provides innovative DSP and analog technologies to meet our customers' real world signal processing requirements. In addition to Semiconductor, the company's businesses include Sensors & Controls, and Educational & Productivity Solutions. TI is headquartered in Dallas, Texas, and has manufacturing, design or sales operations in more than 25 countries. Texas Instruments is traded on the New York Stock Exchange under the symbol TXN. More information is located on the World Wide Web at www.ti.com.

For more information:
Texas Instruments Incorporated
Semiconductor Group, SC-03197
Literature Response Center
P.O. Box 954
Santa Clarita, CA 91380
1-800-477-8924

More from Fasteners & Hardware