Crosslinking Service makes PE tubing for industrial use.
Press Release Summary: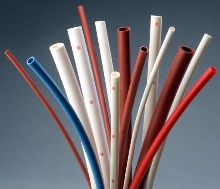 Post-extrusion E-BEAM process utilizes energized electrons to create chemical bonds within plastic polymer. Irradiation of polyethylene (PE) tubing improves thermal performance and wear. Resultant tubing, produced in accordance with ASTM standards, is rated 80 psi for water @ 200ºF. Produced in continuous lengths, tubing is chemically inert and non-corroding. It does not include plasticizers and is resistant to slow crack growth as well as rapid crack propagation.
---
Original Press Release:
E-BEAM Crosslinking Makes PE Tubing Suitable For Many Industrial Applications

Cranbury, NJ: The irradiation of polyethylene (PE) tubing by E-BEAM Services, Inc., greatly improves the thermal performance, wear, and chemical resistance characteristics of PE tubing.

The post-extrusion E-BEAM process utilizes highly energized electrons to create chemical bonds within the plastic polymer. The chemical bonding greatly increases the molecular weight and crosslinking of the polymer matrix.

When polyethylene tubing is crosslinked, the tubing is commonly referred to as PEX (polyethylene crosslinked). PEX is produced in accordance with applicable ASTM standards, which require a minimum 65% degree of crosslinking. PEX tubing meets all the requirements of ASTM standard F 876 and has a pressure rating of 80 psi for water at 200º F.

PEX tubing exhibits far greater performance than its non crosslinked counterparts. The long continuous PEX tubing lengths provide for easier, faster, and less costly installation and offer greater design flexibility than segmented systems.

The crosslinking transforms typical thermoplastic polyethylene into high performance thermoset plastic tubing that exhibits significantly improved long term hydrostatic strength, abrasion resistance, and resistance to slow crack growth and rapid crack propagation. In addition, the environmentally friendly E-BEAM technology provides industrial users with tubing that is chemically inert and non-corroding. PEX tubing offers superior performance characteristics, which lead to longer service life, lower maintenance costs, and enable improved process utilization.

When used with plastic crimp fittings, a PEX tubing system provides for a solder and metal-free installation that is ideally suited for many challenging industrial processes. In addition, PEX tubing does not include plasticizers that can leach into the fluid.

For more information please contact Mr. John Messick, E-BEAM Services, Inc.; 118 Melrich Rd., Cranbury, NJ 08512; (877) 413-2326; www.e-beamservices.com.
More from Optics & Photonics