Cross Stack Monitor utilizes tunable diode laser technology.
Press Release Summary: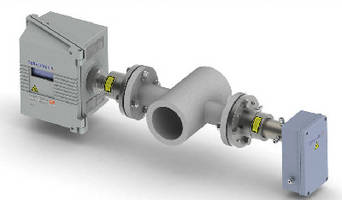 Able to detect wide range of gases, SERVOTOUGH LaserCompact 2900 delivers true continuous in-situ monitoring and is optimized for measurement across pipes and along short cells. Unit utilizes Tunable Diode Laser Spectroscopy technology to deliver response time of less than 2 seconds with minimal interference from background gases. Certified to ATEX and IECEx standards, LaserCompact is suitable for gas measurements in hot, dirty, or dangerous environments.
---
Original Press Release:

New SERVOTOUGH LaserCompact Brings Industry-leading TDL Measurements to New Applications



Crowborough, UK, - The new SERVOTOUGH LaserCompact 2900 from Servomex brings the outstanding measurement accuracy of advanced Tuneable Diode Laser (TDL) technology to a new range of industries and applications.

Designed to deliver true continuous in-situ monitoring across short distances, the LaserCompact is optimised for measurement across pipes and along short cells. Able to detect a wide range of gases including O2, HCl, HF, NH3, CO, CO2, H2O, H2S, HCN, NO, N2O, CH4 and other hydrocarbons, the LaserCompact utilises the latest Tuneable Diode Laser Spectroscopy (TDL) technology to deliver a fast response time of less than 2 seconds, highly stable performance and minimal interference from background gases.

With minimum sample conditioning requirements, zero drift and no moving parts and consumables, the LaserCompact delivers a low cost-of-ownership through minimal maintenance or downtime. As Servomex's advanced TDL technology delivers measurement through a highly focused laser beam, the LaserCompact is able to measure through very thin nozzles, reducing or even eliminating consumption of purge gas.

Certified to ATEX and IECEx standards, the LaserCompact meets the requirements of new flammable sample regulations in full, allowing safe operation in situations where the process stream itself is flammable and has been classified as a Hazardous Area. Optimised for easy installation on measurement cells or DN50/ANSI flanges, the robust design of the LaserCompact makes it ideal for gas measurements in hot, dirty or dangerous environments that can pose problems for some extractive analyser systems.

Key applications for the LaserCompact include a range of chemical industry applications, monitoring for contaminants and moisture in petrochemical processing, non-contact analysis of corrosive, dusty, tarry or sooty gases across pipes, and use in automobile manufacture on engine test stands.

"Following the great success of the SERVOTOUGH LaserSP, we have launched the LaserCompact to meet the needs of customers requiring a shorter path measurement," says Chris Cottrell, Managing Director, Servomex.

"By offering the same exceptional reliability, stability and accuracy of measurement, the LaserCompact will bring TDL's outstanding benefits to even more applications."

For more information about the new SERVOTOUGH LaserCompact from Servomex, contact Servomex's Regional Business Centres based in North America (+1 281 295 5800), Latin America (+55 115 188 8166), Europe/Africa (+31(0)79 330 1580) Middle East/India (+91(0)226 710 0360) and Asia Pacific (+86(0)216 489 7570), or email info@servomex.com.

About Servomex Group Ltd

As the world expert in gas analysis, Servomex has established itself as the leading provider of reliable, accurate and stable gas measurement solutions to industries across the globe.

An acknowledged innovator in gas analysis technologies for more than 50 years, Servomex is the originator of and world leader in paramagnetic sensing technology and has an exceptional reputation in the development of zirconia, laser (TDL), gas chromatography, FID, coulometric, photometric and thick film technologies. With a leading edge in R&D and manufacturing maintained by two Technical Centers based in Crowborough, UK and Boston, Massachusetts, the result is high-performance, cost-effective gas analysis, delivered through a portfolio of dependable products ranging from portable gas analysers to complex process solutions.

Servomex has extensive experience working with multi-national companies across a range of industries including hydrocarbon processing, industrial gas and OEM markets, ensuring our knowledge and expertise closely matches the requirements of our customers.

Servomex's commitment to providing a complete industry solution to gas analysis extends across our business, with our Hummingbird Sensing Technology brand delivering our sensor technology to OEM partners and the recently-acquired Delta F Corporation extending our product offering through high quality oxygen and moisture analysis technologies.

Servomex is committed to providing excellence in customer service, offering full sales and service support through global business centers based in Houston, Texas; Zoetermeer, Netherlands; Shanghai, China; São Paulo, Brazil; and Mumbai, India. By combining global expertise with local support, Servomex delivers a complete package of product and service that ensures customers improve output quality, maintain plant and process safety and meet legislative requirements.

Servomex is part of Spectris plc, a leading supplier of instrumentation and controls to global markets.

More from Printing & Duplicating Equipment