Critical Uniformity Requirement for Contact Lens Curing Greatly Surpassed with Despatch Oven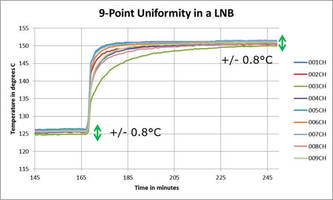 To manufacture contact lenses, a monomer resin called "hydrogel" is injected into molds and heat-cured in an oven. The process polymerizes the hydrogel to produce hard, slightly flexible lenses. The lenses are then removed from the mold and transferred to a downstream hydration process.

 

These hydrogel thermal curing cycles can be relatively long—up to 34 hours—and require a reliable oven with uniform internal temperatures, an inert nitrogen atmosphere, and accurate ramp and soak time and temperature controls.

 

A contact lens manufacturer wanted to verify that the large chamber (48x50x38in) Despatch LNB oven they were using would meet the stringent +/- 3.0°C uniformity requirement for their process. The chamber was loaded with their product and a nine point temperature uniformity test was performed by a Despatch process engineer. A temperature uniformity of +/- 0.8°C was achieved which greatly surpassed the customer's expectations.

 

The Despatch LNB is a custom-designed oven built for process repeatability and reliability. The LNB's operating range is from 60°C to 150°C (140°F to 302°F), with horizontal airflow producing precise temperature uniformity. An internal nitrogen atmosphere system is standard and will reduce oxygen concentrations to as low as 1000 ppm as required to prevent distorted or discolored lenses.

More from Thermal & Heating Equipment