Crestron iPhone® Apps Run on the iPhone 4, the Fastest, Highest-Resolution iPhone Yet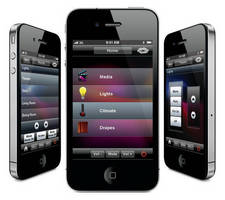 Crestron's Popular Mobile(TM) and Mobile Pro(TM) Apps for iPhone® Are Compatible with
the New iPhone 4 and iOS4 Operating System

Rockleigh, NJ - Crestron announced today that its popular iPhone® apps run seamlessly on the new iPhone 4, as well as the iOS4 operating system that can be downloaded to the iPhone 3G and 3GS. Crestron apps for iPhone put an attractive, intuitive touchpanel user interface right on the popular Apple® iPhone or iPod touch®, enabling a wide array of customizable features to control audio/video, lights, climate, shades, and security in the home or office. The only control app that harnesses the power of the 3G network, Crestron Mobile Pro enables users to stay connected from anywhere in the world.

A control interface is only as powerful as the control system behind it. Crestron iPhone and iPad(TM) apps pair the most popular mobile devices with the most powerful, flexible and reliable control system in the world. The Crestron control app for iPhone enables a fully customizable graphical interface, and is often designed to match the look and functionality of the touchpanel and iPad interfaces that are part of an installation. Multiple locations may be remotely controlled from a single iPhone. Using Wi-Fi locally or 3G network remotely, total control is always at your fingertips, wherever you may be.

"Our iPhone app is so successful because we've connected the most popular interface to the most powerful control system in the world," said Vincent Bruno, Crestron Director of Marketing. "Crestron has innovated mobile device control for more than 10 years, and we continue to integrate the latest products and technologies."

The only industry iPhone app to reach the top 30 highest grossing iPhone Apps in the iTunes® Store lifestyle category, Crestron Mobile Pro was recently localized in French and Chinese and featured in 30 second TV commercials for the iPhone 3GS. It was also showcased in the "Apps to Control Your World" feature section in the iTunes App Store.

For more information, visit www.crestron.com/apple. For high-resolution photos, go to http://www.crestron.com/pressroom.

About Crestron
For 40 years Crestron has been the world's leading manufacturer of advanced control and automation systems, innovating technology and reinventing the way people live and work. Offering integrated solutions to control audio, video, computer, IP and environmental systems, Crestron streamlines technology, improving the quality of life for people in corporate boardrooms, conference rooms, classrooms, auditoriums, and in their homes. Crestron's leadership stems from its dedicated people who are committed to providing the best products, programs and services in the industry.

In addition to its World Headquarters in Rockleigh, New Jersey, Crestron has sales and support offices throughout the U.S., Canada, Europe, Asia, Latin America and Australia.

Related