Crestron Earns Another Important U.S. Government Certification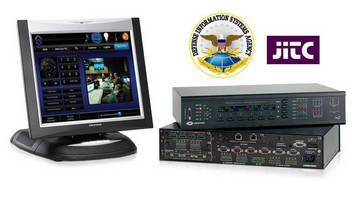 DoD JITC Information Assurance (IA) Certification Enables Federal Government

Agencies and U.S. Military Branches to Achieve Highly Secure
AV Networks with Crestron Control Technology

Rockleigh, NJ - Crestron announced that the Joint Interoperability Test Command (JITC) approval of its advanced control systems and touchpanels adds another high level certification to its integrated solution offerings, enabling U.S. federal government agencies and military branches to implement the company's AV control systems in its most secure information network infrastructures.

Exceeding the minimum protocol requirements of strict Information Assurance (IA) assessments administered by the U.S. Department of Defense Information Systems Agency's (DISA) JITC, Crestron control systems and touchpanels scored higher than any other control system manufacturer in both STIG and Information Assurance tests.

"We achieved a perfect score in the JITC Vulnerability Test, with no High, Medium or Low Impact findings, and this is a testament to Crestron engineering where network integrity and rock solid stability are paramount," said Landon Lovett, Crestron Director of Federal Government Markets.

In addition to the new JITC certification, Crestron control system technology also has earned a portfolio of critical certifications and compliance approvals required by U.S. Federal Government and branches of the U.S Military. These Department of Defense certifications include: Crosstalk Tested for JWICS Compliance of DigitalMedia(TM), U.S. Army Certificate of Networthiness for RoomView(TM) Server Edition software, TEMPEST Compliance for Volatility, U.S. Navy Class A Shock Test Certification, DoD Section 508 Compliance, and IPV6 Compliance.

"We encourage Federal Government agencies, the Intelligence Community, and all branches of the U.S. Armed Services where information security is critical, to inspect our JITC assessment and compare the results," added Lovett. "The men and women in harm's way protecting our country deserve the assurance that network security is taken very seriously, knowing our products are deployed in mission critical installations all over the world."

To learn more about Crestron Federal Government and U.S. Military command and control solutions, please visit:
http://www.crestron.com/solutions/control/government_eoc_noc_ccc_courtroom_automation/

About Crestron

The leading manufacturer of AV control and automation systems for 40 years, Crestron has supported the federal government and U.S. military to provide integrated solutions including AV and environmental touchpanel room control, digital signal switching and distribution, HD multi-image display, and secure remote asset management for CCC, EOC, briefing rooms, classrooms, court rooms and more. All Crestron products are proudly designed, engineered and
manufactured in the USA.

In addition to its World Headquarters in Rockleigh, New Jersey, Crestron has sales and support offices throughout the U.S., Canada, Europe, Asia, Latin America and Australia.