Creform Kanban Stations create simple production system.
Press Release Summary: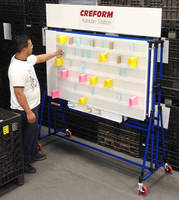 Responsive to change, modular stations use Creform® System of plastic-coated steel pipe and joint components along with Creform Kanban plastic dividers and spacers that provide compartmental storage for cards. Dividers/spacers, which measure 6 ¼ x 5/8 x 4 in., interlock with each other without adhesive and can be oriented vertically or horizontally. Spacers create wider slot openings, and slot caps provide labeling surface or can be used to block off positions.
---
Original Press Release:
Creform 606 Position Kanban Stations Create a Simple to Use Demand Driven Production System
The time proven Kanban system is a series of cards that represent visual cues containing routing information, process procedures and component data functions as a scheduling system for continuous improvement, lean and just-in-time production.  The Kanban system allows participants to achieve the objectives of reducing costs by eliminating waste and scrap, improving quality control, developing flexible workstations responsive to change, and allowing workers to reach their maximum potential.

Should a Kanban system not be presented in its own level of simplicity, it can add confusion and disorder to the process.  For example, a large, bulky filing system for storing and distributing the cards can quickly undermine its acceptance and use.  The simple answer is to build Kanban Stations using the Creform® System of plastic coated steel pipe and joint components along with Creform Kanban plastic dividers and spacers that provide compartmental storage for the cards.

The dividers/spacers interlock with one and other without adhesive and can be oriented vertically or horizontally.  Available in white only, they are 6-1/4" deep, 4" tall and 5/8" wide.  Spacers create wider slot openings and slot caps provide a labeling surface or can be used to block off positions.  These modular units can be stacked in numerous width-height configurations that match users' requirements.

The Creform Kanban Station, as shown, was custom designed and built for a Creform customer.  It features six rows, each with 96 kanban slots oriented vertically.  An additional 30 slots across the bottom are oriented horizontally equaling 606 total positions. The panels across the top are for the user's signage.  Four swivel casters, two locking, make these stations highly mobile to use throughout its facility.

Creform kanban stations can be designed as stationary structures or integrated into workstations, supermarket flow racks or manufacturing cells.  Creform pipe is offered in a wide selection of standard and custom colors allowing these stations to be color coded by department or type of use.

The Creform System is used to create an array of material handling and efficiency enhancing devices, including push, special purpose and trailer carts, flow racks, roller conveyors, workstations, and AGV/AGCs. The Creform System is a proven component in continuous improvement and Lean Manufacturing programs, and the company partners with customers in developing and implementing these programs.

Online at www.creform.com.   Creform is a registered trademark of Yazaki Kako Corporation and Creform Corporation
More from Electrical Equipment & Systems