Creative Pultrusions, Inc., Supplies Pultruded SuperStructural Profiles to Support Solar Panels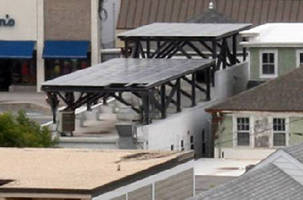 Creative Pultrusions, Inc. (CPI), worked closely with FLEXERA® and IMCO Reinforced Plastics, Inc., to produce a pultruded structure to support solar panels on the roof of the Go Fish Restaurant located in downtown Rehoboth, Delaware.

CPI pultruded 6" x 6" x 3/8" Pultex® SuperStructural wide flange beams and IMCO then fabricated the pultrusions into the truss sections. Once fabricated, IMCO shipped the beams to the jobsite for FLEXERA® to install. The pultruded structure houses photovoltaic panels utilized to make electricity, which will offset the electrical demand of the restaurant while shading the roof from additional heat loads.

Pultex® SuperStructural profiles were chosen for this project because of their high modulus of elasticity and inherent strength properties. The truss sections were designed to comply with all relevant local codes and live loads due to wind and snow. In addition to the high strength and stiffness attributes, the beams are extremely lightweight and corrosion resistant.

The corrosive coastal salt air, compiled with the need for a lightweight solution, drove FLEXERA® to integrate the pultruded structure as a means of supporting their solar grid system. Such pultruded GREEN alternatives to traditional galvanized steel provide structures with approximately half the carbon footprint of galvanized steel while reducing future maintenance costs.

For more information on this solar project, contact John J. Donato, Marketing Director FLEXERA® at 302.945.6870 ext. 242.

For more information on pultruded fabricated structures, contact Harry Regan at IMCO Reinforced Plastics, Inc. at 800.899.4626.

CPI is a world-class pultruder that utilizes the most advanced manufacturing processes to provide high-end profiles. Originally founded in 1973, CPI was acquired by Hill & Smith Holdings PLC (HS) in September 2008. A global leader in the design, manufacture and supply of infrastructure products, galvanizing services and building and construction products, HS has sales of over $700 million. Headquartered in the UK and quoted on the London Stock Exchange, HS employs some 3,300 staff across 54 sites, principally in the UK, France, USA, Thailand and China.


More from Electronic Components & Devices