Creating a Screen Porch: Variety of Phifer Screen Options Abound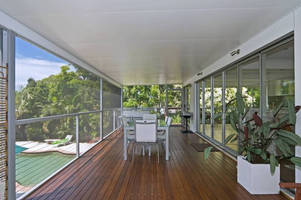 TUSCALOOSA, Ala. - The screen porch is where relaxation and family time take center stage! Sitting in the open, fresh air, connecting with nature, all in a bug-free environment? Your home's porch can easily become the most sought-after "room" in the house - perfect for dining, reading or any other favorite pastime!

When considering installing a screen porch, the screening options are almost endless. Phifer Incorporated offers a variety of screening choices, whether you're looking for the best visibility, pet resistance, antimicrobial protection or simple insect protection:

Phifer's Excellent Visibility Insect Screening (eVis) and Improved Visibility Insect Screening (iVis) products consist of either fiberglass yarns or stainless wires that are woven using the most precise techniques to achieve maximum visibility. BetterVue®, Phifer's fiberglass option, features increased openness and smaller yarn diameters that offer increased protection against small insects and maximize the outward view. Phifer's SeeVue® is woven from stainless steel, which not only improves visibility with its fine wire diameter but also makes this product much stronger than standard insect screen.

Phifer PetScreen® is built to withstand the bumps, bruises and bustle of even the most curious creatures. Made from strong vinyl-coated polyester, this durable, heavy-duty, pet-resistant insect screening resists tears, punctures and other damage caused by pets or heavy wear in high traffic areas. After extensive testing, PetScreen was found to be seven times stronger than regular insect screening.

BetterVue and PetScreen are infused with Microban® antimicrobial product protection. Added during the manufacturing process, Microban protection works continuously for the lifetime of the screens to inhibit the growth of stain-causing bacteria, mold and mildew.

Phifer's Aluminum Insect Screen offers improved outward visibility, creating a sharp outward appearance for your home, as well as insect protection. Aluminum screen is available in three colors, Black, Brite Aluminum (silver) and Charcoal (dark gray), with dark aluminum screens offering the best outward visibility of the product line.

Phifer Bronze Screen is a unique alternative to aluminum and fiberglass screening and weathers to a beautiful dark bronze finish. Made of 90 percent copper and 10 percent zinc, this metal screen provides strength and durability and is an excellent choice for those living in salty air, coastal regions. The nostalgic look of weathered screening can be ideal for both inland and coastal homeowners who want to restore the original exterior character of their home.

Phifer's 20x20 NO-SEE-UMS Insect Screen is a tighter- mesh screen designed to keep out small, pesky insects. Densely woven, this screen still allows great ventilation, good visibility and provides some daytime privacy. NO-SEE-UMS screen is available in Silver Gray and Charcoal colors and will not rust, corrode or stain.

For more information about Phifer's wide range of insect screening products perfect for creating a screen porch, visit www.phifer.com/InsectScreen.aspx or e-mail inquiries through the Web site at www.phifer.com.

A master weaver with 60 years of experience and a forward-thinking mentality, Phifer is the world leader in the production of interior and exterior sun protection fabrics, cutting-edge, specialty screen products for windows and doors, stock/custom engineered mesh and textile products and high performance outdoor designer fabrics.


More from Mechanical Power Transmission