Creamid® compounds require less number of gates or knit lines.
Press Release Summary: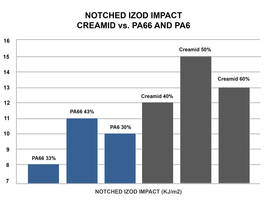 Offering higher tensile strength, lower water absorption and flow properties, Creamid® compounds are available in CREAMID-A3H7G8.2S*9217/2, CREAMID-A3H7G10.2S*9217/2 and CREAMID-A3H7G12.2S*9207/2 grades. Suitable for automotive air vents, spoilers, fan blades, spring adapters, and key fobs applications, unit provides tensile strength up to 260 MPa in metal replacement applications.
---
Original Press Release:
High-Performance Polyamides Demonstrate Substantial Property and Processing Advantages Over Standard Glass-Filled Compounds
Teknor Apex Brings Global Commercial Availability and Application Support for Creamid® Compounds, which Have Successfully Replaced Metals and Exotic Thermoplastics
A new family of compounds from Teknor Apex Company raises the processability and physical properties of glass fiber-reinforced polyamides to a new level, enabling injection molders to take on more demanding metal-replacement applications or replace alternative thermoplastic materials for greater versatility in processing.
New Creamid® compounds exhibit higher tensile strength and better flow properties compared with standard glass-filled polyamide counterparts, greater dimensional stability, lower water absorption, improved chemical resistance, and enhanced surface aesthetics. Creamid property data is available at: https://www.teknorapex.com/creamid-data-comparison. The compounds differ chemically from standard polyamides and were originally developed in Germany by Plastic-Technologie-Service (PTS), a custom compounder acquired by Teknor Apex in 2016.
Creamid compounds are now commercially available in the Americas and Asia for the first time, bolstered by the experienced application development support and global manufacturing capabilities of Teknor Apex. Featured grades include: CREAMID-A3H7G8.2S*9217/2 (40% glass loading); CREAMID-A3H7G10.2S*9217/2 (50% glass loading); and CREAMID-A3H7G12.2S*9207/2 (60% glass loading). These compounds have been successfully used in Europe for automotive air vents, spoilers, fan blades, spring adapters, and key fobs.
The processing advantages of Creamid compounds introduce dramatic improvements for injection molders in comparison with standard glass-filled polyamides. When compared with a standard 43% glass-filled polyamide, a 40% glass-filled Creamid compound shows a 68% improvement in spiral flow tests, reaches a 41% lower peak injection pressure, and requires 43% less clamp force. Longer flow length and lower injection pressure translate into a wider processing window, more efficient filling of complex or thin-wall cavities, reduced part warpage, and a possible reduction in the number of gates or knit lines. A lower clamp force also opens the possibility of increasing the number of cavities or running parts in a smaller, less costly molding press.
.In metal replacement applications, Creamid compounds are frequently formulated for a flexural modulus as high as 21 GPa, giving molded parts excellent dimensional stability. These grades also provide tensile strength up to 260 MPa, a property more commonly expected from die-cast aluminum or zinc, and offer significant savings in part weight. When combined with longer tooling life and lower material cost, metal-replacement projects with Creamid polyamides typically produce very high returns on investment for OEMs, according to Brian Rickard, director of strategy and business development for the ETP Division of Teknor Apex.
"Creamid compounds provide designers and processors of metal-replacement and other high-specification components with an ultra-high performance alternative to standard glass-filled nylons," said Mr. Rickard. "Our introduction of these products is the first commercial initiative by Teknor Apex in what will be an extensive expansion of our portfolio of engineering thermoplastic compounds, drawing on the diverse range of unique ETP technologies developed by PTS."
Creamid compounds are manufactured at Teknor Apex facilities in the U.S. and Europe and are available worldwide. Teknor Apex also supplies a comprehensive range of reinforced and specially modified polyamide compounds under the brand name Chemlon®, producing them at plants in the U.S. and Singapore. In North America, Chemlon compounds have over 80 specifications from automotive OEMs.
Download a property comparison table at: www.teknorapex.com/creamid-data-comparison.
About Teknor Apex. Teknor Apex Company, a privately held firm founded in 1924, is one of the world's leading custom compounders of plastics. Teknor Apex produces flexible and rigid vinyl, thermoplastic elastomers, engineered thermoplastics, color masterbatches, specialty chemicals, and garden hoses. The company is headquartered in Pawtucket, RI, U.S.A. and operates thirteen manufacturing facilities worldwide in the United States, Belgium, Germany, China, and Singapore. To learn more visit: www.teknorapex.com.
The Engineering Thermoplastics (ETP) Division of Teknor Apex Company is an international supplier of compounds for the transportation, consumer products, and industrial markets. It produces reinforced and specially modified compounds of polyamide 6, 66, 610, and 612 under the Chemlon® brand; exceptionally high-performance Creamid® and Duramid® polyamides; engineering-grade blends based on diverse resins; and specialized formulations for radiation crosslinking and electroplating.
FOR MORE INFORMATION : Europe and Americas: Tel:1-401-725-8000. Tel. from U.S. only: 1-800-237-3167. E-mail: etp@teknorapex.com. Asia: Tel: 65-6265-2544. Fax: 65-6265-1821.