CRD-060DD17P-2 Demonstration Board comes with active start-up circuit.
Press Release Summary: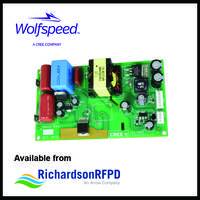 Reducing start-up loss, CRD-060DD17P-2 Demonstration Board is operated in 300 V to 1000 V input voltage range. Delivering 48W of power, unit is designed with 1700 V SiC MOSFET. Suitable in auxiliary power supplies and switch mode power supplies, CRD-060DD17P-2 uses ultra-low drain gate capacitive C2M1000170J power transistor.
---
Original Press Release:
Richardson RFPD Introduces New Auxiliary Power Supply Evaluation Board for SiC MOSFET from Wolfspeed
Single-end flyback converter design delivers 48 W of power utilizing 1700 V SiC MOSFET in a low-inductance surface mount D2PAK to reduce total cost and simplify design
Richardson RFPD, Inc. announced today the availability and full design support capabilities for a new evaluation board from Wolfspeed, a Cree Company.
The CRD-060DD17P-2 is a demonstration board for a single-end flyback converter design with built with Wolfspeed's commercially-available 1700 V SiC MOSFET.
The 48 W experimental reference design demonstrates how the 1700 V SiC MOSFET can reduce total cost and simplify the design of auxiliary power supply. It replaces the more common, but more complicated, silicon-based two-switch flyback topology, while successfully supporting a wide input voltage range (300 V to 1000 V). An active start-up circuit is also introduced to achieve less start-up losses with faster start-up time.
The design utilizes Wolfspeed's C2M1000170J, which is available in a 7LD2PAK surface mount package that combines a small footprint with a wide creepage distance—7mm between drain and source. By moving to the surface mount package, design engineers can achieve economical thermal designs without the need for heat sink on the MOSFET. The addition of a heat sink enables the same design to reach 58 W of output power.
The C2M1000170J features high blocking voltage with low RDS(on), low parasitic inductance, ultra-low drain gate capacitance, and a separate driver source pin. It is easy to parallel and simple to drive, and it is ideally suited for auxiliary power supplies, switch mode power supplies, and other applications involving high-voltage capacitive loads.
To find more information or to purchase these products today online, please visit the CRD-060DD17P-2 and C2M1000170J webpages. The devices are also available by calling 1-800-737-6937 (within North America); or please find your local sales engineer (worldwide) at Local Sales Support. To learn about additional products from Wolfspeed, please visit the Wolfspeed storefront webpage http://www.richardsonrfpd.com/content/english/aboutus/pages/Suppliers-Storefront.aspx?supplierId=1085.
About Richardson
RFPD Richardson RFPD, an Arrow Electronics company, is a global leader in the RF and wireless communications, power conversion and renewable energy markets. It brings relationships with many of the industry's top radio frequency and power component suppliers. Whether it's designing components or engineering complete solutions, Richardson RFPD's worldwide design centers and technical sales team provide comprehensive support for customers' go-to-market strategy, from prototype to production.
More information is available online at www.richardsonrfpd.com.
Contact:
Elizabeth Whelan
Marketing Specialist
Richardson RFPD
1950 S. Batavia Ave Suite 100
Geneva, IL 60134
P 630.262.6867
M 630.488.6184
More from Machinery & Machining Tools