Crawler Excavator complies with iT4 emission regulations.
Press Release Summary: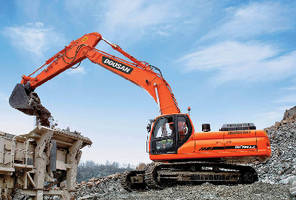 Powered by 281 hp, 6-cylinder, water-cooled diesel engine, Model DX350LC offers 23 ft 7 in. dump height, 24 ft 9 in. digging depth, and 84,337 lb-ft swing torque. Turbocharged 466 in.³ engine features common rail design with direct fuel injection, electronic control, and 4 valves per/cylinder. Closed center main control valve with electro-hydraulic pump control allows ECU to maximize engine power. With 2 variable-speed hydraulic fans, engine and oil cooling systems can be controlled independently.
---
Original Press Release:

Doosan Provides Additional Enhancements to DX350LC with Interim Tier 4 Updates



WEST FARGO, N.D., - The Doosan DX350LC excavator is more than just interim Tier 4 (iT4) compliant. Improvements span from more engine horsepower and torque to a turbocharger, upgraded cooling system and new hydraulic system.

The DX350LC is powered by a 281-horsepower, 6-cylinder DL08K water-cooled diesel engine that has been optimized for use with cooled exhaust gas recirculation (CEGR) system, diesel oxidation catalyst (DOC) and diesel particulate filter (DPF). The engines in this configuration are optimized to reduce nitrogen oxides and after treatment is needed to reduce particulate matter, to comply with iT4 emission regulations. The turbocharged 466-cubic-inch engine features a common rail design with direct fuel injection, electronic control and four valves per cylinder.

The high-pressure common-rail (HPCR) system increases the efficiency of fuel delivery by increasing the pressure to 26,100 psi. The increased pressure allows the injector to inject a finer mist into the engine, which results in a more efficient combustion as required by the lower combustion chamber temperature due to the CEGR system.

Cooling system upgrades include two variable-speed hydraulic fans. This allows the engine and oil cooling systems to be controlled independently, improving fuel efficiency and provides a quieter operator environment. The new cooling system on average has a 10 - 15 percent greater cooling capacity.

Performance

The improvements in engine horsepower and torque, coupled with the 6 percent increased maximum pressure from the main control valve, mean increases in various workgroup functions.

Swing torque increased by approximately 8 to 11 percent, which allows the excavator to swing uphill more easily, as well as improve backfilling trenches. This leads to decreased time per foot of trench, improving productivity. Digging force has increased approximately 5 percent, which allows for more power in harsh digging conditions, leading to decreased cycle times and improved production in trenching applications.

Lifting capacity increased by approximately 2 percent, providing improved power out of the trench, allowing the machine to lift and place more material with each cycle. The boom-up speed improved by approximately 6 percent, which allows for more work to be completed faster, increased cycle times, improved truck loading time and more material moved per hour.

A variable geometry turbocharger (VGT) is utilized to increase boost pressure at lower engine rpm. Controlled by the ECU, the VGT varies the amount of boost supplied to the engine to optimize combustion over the entire rpm range. The VGT also allows the engine to generate a greater amount of torque in a wider band in the rpm range, increasing engine performance at lower engine rpm. This improves machine performance in the standard and economy power modes while saving fuel.

The new closed center main control valve with electro-hydraulic pump control, exclusive to the DX350LC, allows the ECU to maximize engine power. This leads to an approximately 20-percent increase in efficiency of the main control valve, which leads to improved fuel economy. Workgroup performance increased approximately 10 percent compared to the Tier 3 DX350LC model. Smoother control and more accurate placement of materials is a result of the operator's ability to control the machine with more precise movement.

Additionally, the new boom float option allows the boom of the excavator to "float" up or down, allowing the operator to focus more on the task while decreasing the machine workload and increasing efficiency. The float mode allows the boom to move freely up and down without hydraulic flow. The breaker mode allows the boom to freely move down, only without hydraulic flow. A temporary reset button allows the ability to momentarily disengage the float, allowing hydraulic flow to activate the boom.

Comfort

Doosan continues to focus on operator comfort with further enhancements to the roll-over protective structure (ROPS) cabin. Both a seat height lever and tilting function for the seat cushion were added to the seat to allow the operator to find an optimum seating position. The cabin mounting mechanism has been improved with a thickened dampening plate, and a coil spring has been added to reduce cabin vibration 20 percent, allowing operators to work longer days with less fatigue.

The door window position slider now locks in various positions, preventing it from moving from its intended location. Both front and rear glass windows are also adjustable. The door space of the cab has increased by 1.8 inches, allowing the operator to get in and out more easily. The cabin size has increased 6.1 percent, providing more headroom. The joystick angle has been reduced from 25 degrees to 19 degrees to provide a more ergonomic profile and decrease interference with operator's legs.

The DX350LC - like every Doosan machine - is covered by an innovative 48-hour parts guarantee. The program guarantees that if a "machine-debilitating" part is needed, Doosan will deliver this part to the end user within two business days or Doosan will pay for a replacement machine rental.

ABOUT DOOSAN INFRACORE CONSTRUCTION EQUIPMENT AMERICA

Doosan Infracore Construction Equipment America, headquartered in West Fargo, N.D., markets the Doosan brand of products which includes large excavators, wheel loaders and articulated dump trucks. With more than 100 heavy equipment dealer locations in North America, Doosan is known for an unmatched dedication to service and customer uptime, and durable, reliable products. Doosan is fast becoming a global force in heavy construction equipment. For more information on Doosan products, visit www.doosanequipment.com.

More from HVAC