Crawler Dozers feature engines ranging from 145-200 hp.
Press Release Summary: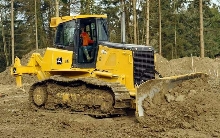 Models 750J and 850J are available with 5 main frames, 12 track frames, and 13 blade options. Variable-speed, hydraulically driven cooling fan turns only at speed necessary to cool system. Dozers feature fuel tank capacity of 98 gal, dual-path hydrostatic drive power train, and speed-in-grip transmission control system. Decelerator response, FNR shift rate, steering rate and modulation, forward and reverse speed, and reverse ratio can be adjusted.
---
Original Press Release:

Redesigned Crawler Dozers Set New Standard for Productivity


MOLINE, Ill. (March 16, 2005)--The new John Deere 750J and 850J Crawler Dozers retain many of the features customers appreciated on their predecessors, but have been completely redesigned to set a new standard for machines in the 115-200 horsepower class. With a flexible machine configuration, state-of-the-art power train, new cab and best-in-class service appointments, these dozers deliver increased productivity and uptime while decreasing daily operating costs.

"This product line can be configured to precisely meet the machine owner's application," said Brett Errthum, product marketing manager, John Deere Construction & Forestry Company. "Its purpose-built components, including five main frames, 12 track frames and 12 dozers, allow this flexibility without compromising the machine's capabilities."

Blade control and machine balance can be perfected by choosing the main frame that's right for the individual application, according to Errthum. The 12 track frame choices provide the flexibility to deliver multiple undercarriage configurations for each model, as well. Improvements that increase productivity, durability, and maintenance also have been made to the 13 different blade options available for these models.

These machines feature John Deere PowerTech(TM) engines ranging from 145 hp to 200 hp. The J-Series dozers deliver more horsepower than competitive machines in low ground pressure configurations for more productivity. A variable speed, hydraulically driven cooling fan turns only at the speed necessary to cool the system and, as a result, uses less power and fuel. And an optional automatic reversing fan is available. The entire cooling system is designed to be low maintenance, with large fin spacing to allow more debris to pass through the cooler; flush-fit belly pans and side shields that keep debris out of the engine; and no stacked coolers for easier clean-out. A rotary pre-cleaner also is available as a factory option for applications with a high amount of airborne debris. Fuel tank capacity has increased to 98 gallons. The engine is easily serviced using a larger engine access door, and a swinging grille provides access to the cooling system.

Service appointments are best-in-class, so maintenance time is reduced, according to Errthum. "The entire machine is designed for easy servicing, and diagnosis is simplified so fewer tools are necessary," he said. "This means the J-Series dozers spend more time working and less time being serviced."

The 750J and 850J have the same dual-path hydrostatic drive power train and speed-in-grip (SIG) transmission control system. Operating characteristics can be tailored to the owner's preference using an electronic display monitor on the front console. Decelerator response, FNR shift rate, steering rate and modulation, forward and reverse speed, and reverse ratio all can be adjusted, with a final option to return to factory settings. A decelerator mode switch on the dash allows the operator full power when slowing the machine for finish work, winching and other low-speed duties. Dynamic braking and controlled steering provide a predictable machine response regardless of slope or conditions, and counter rotation on-the-go delivers quick repositioning. The system also includes an automatic transmission protection feature that monitors charge pressure and oil temperature; if either is outside defined parameters, the protection feature limits engine and transmission operation. New final drives also produce 14 percent higher torque than the C-Series models, giving extra track power for tough dozing jobs.

The hydraulic system has been completely redesigned to feature a closed center system with variable displacement load sensing hydraulic pump and pilot controls that deliver smooth hydraulic response and speed.

The operator's station also has been totally redesigned. The door openings are larger and the doors are lighter, with increased strength and pull-to-release latches. Right and left side windows are hinged, and the cab features standard air conditioning and heat, as well as a 12-volt power outlet, and a cup and lunch box holder. A new decelerator pedal combines the decelerator and brake functions into one pedal, and a new park lock lever simplifies service. The new dash panel has backlit rocker switches and a new monitor display unit. Engine speed now is controlled with a rotary dial to allow infinite speed control between high and low idle, eliminating the throttle lever, linkage and cable, and pilot hydraulic controls and thumb-operated blade angle result in less effort from the operator. Additionally, a new vehicle electrical center is accessed through a cover in the operator's station and provides a central location for all electrical system fuses and relays.

Standard lighting includes two grille mounted lights and one rear light. High intensity work lights, which include two additional forward and two rear lights, are available and enable the operator to extend the workday beyond daylight hours.

"Everything about the J-Series is designed for maximum productivity," Errthum said. "These machines have a lot of Deere-exclusive features that result in best-in-class productivity and efficiency."

About John Deere: John Deere (Deere & Company-NYSE:DE) is the world's leading manufacturer of agricultural and forestry equipment; a major manufacturer of construction equipment; and a leading supplier of equipment used in lawn, grounds and turf care. Additionally, John Deere manufactures engines used in heavy equipment and provides financial services and other related activities that support the core businesses. Since it was founded in 1837, the company has established a heritage of quality products and services providing performance that endures to customers worldwide.

Key Specifications:
750J (LT/WT/LGP) 850J (LT/WT/WLT/LGP)
Engine 6068H, turbocharged, air-to-air cooled 6081H, turbocharged, air-to-air cooled
Rated Power 145/145/145/155 185/185/185/185/200
Transmission Automatic, dual path, hydrostatic drive, load-sensing, oil-to-air cooled. Automatic, dual path, hydrostatic drive, load-sensing, oil-to-air cooled.
Typ. Operating Weight 32,510-36,650 lbs. 39,790-45,000 lbs.
Blade Dig Depth 22.6 in.-25.6 in. 23.6 in.-27.7 in.

More from Electrical Equipment & Systems