Crawler Dozers feature automatic blade control.
Press Release Summary: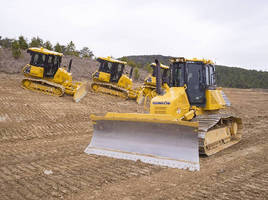 In automatic mode, iMC Crawler Dozers perform rough dozing as well as finish grading. When rough dozing, automatic blade control monitors blade load and adjusts blade elevation to minimize track slip. As work progresses, blade control adjusts accordingly to provide precision finish grade performance. Add-on machine control components mounted on blade have been replaced with factory-installed cab top GNSS antenna, inertial measurement unit, and stroke sensing hydraulic cylinders.
---
Original Press Release:

Success of Komatsu's Intelligent Machine Control (iMC) Technology Leads to Family of iMC Dozers



Owners and operators offer insight from personal experience



Rolling Meadows – Following the successful launch of Komatsu's first intelligent Machine Control dozer into the North American market last June, Komatsu America will be expanding its family of iMC crawler dozers to include other popular-sized machines prior to CONEXPO-CON/AGG 2014 which will be held in early March. By the time of the show, there will be four Komatsu America iMC dozer models in the market.



In the past, crawler dozers have been able to perform high-precision finish grading only after installing an add-on machine control system. However, Komatsu's iMC dozers perform rough dozing as well as finish grading in automatic mode, because of the fully automatic blade control.



"The operator uses the machine control from start to finish, says Andy Smith, Operations Manager, of Sellers Contracting Services, LLC in Gordon, GA. "From the beginning of the cut all the way to the final grade, the operator switches it in automatic and does the cut straight across, comes back does it again, all in automatic."



When rough dozing, the automatic blade control monitors blade load and adjusts blade elevation to minimize track slip and perform high-efficiency dozing. As work progresses closer to the target finish grade, the automatic blade control adjusts accordingly to provide finish grade performance with high-level precision. Improvement in combination rough dozing efficiency is up to 13% higher compared to add-on machine control systems for tested models.



"We were excited to bring Komatsu's intelligent Machine Control technology to market last year," says Peter Robson, director of Intelligent Machine Controls, Komatsu America Corp. "The overwhelmingly positive reception from our customers definitely figured into our quick expansion of this family of crawler dozers." Robson continues, "The efficiency improvement, greater value and simplicity of operation of the iMC dozers exemplify the leading innovations that customers have come to expect from Komatsu."



Integrated Technology

With Komatsu's iMC crawler dozers, typical add-on machine control system components mounted on the blade have been replaced with factory installed cab top GNSS (Global Navigation Satellite System) antenna, enhanced inertial measurement unit (IMU+), and stroke sensing hydraulic cylinders. These components along with the machine control monitor and controllers mounted inside of the cab are installed at the Komatsu manufacturing facility during machine assembly.



The integrated sensor package is robust and accurate and eliminates the daily hassles of installing/removing GNSS antenna(s) and cable(s) from the blade, including the wear associated with that removal.



Testimonials of Increased Productivity



Todd Sattler, Superintendent of CL Trucking and Excavating in Ionia, MI says, "The biggest advantages for us within an integrated machine over a bolt-on application are:



1)    Safety—because a guy's not climbing around on a machine; 2) we have the ability to be more cost-effective because we're not going to have broken wires or damaged parts; 3) since we shuffle our machines around a lot from job site to job site, the setup and teardown time and the redesign for each different site is gone."



Sattler continues, "Now we're able to move the machines around, integrate that into the job site, and change operators frequently without any loss of production."



"We really love the fact that there's no setup involved," says Chris Barnhart, Vice President of Beran Excavating, located in Wichita, KS. "You go out, start the equipment and go straight to work. There's no tearing it down at the end of the day; worrying about forgetting something, something getting stolen or misplaced."



Excellent Accuracy

Inside the cab, customer selectable dozing modes allow system response to be tailored to the current machine operation for optimized performance. Similarly, blade load settings are adjustable between pre-sets to match actual material conditions.



When the machine travels around the job site, the cab top GNSS antenna collects accurate surface data by measuring actual elevations. The stroke sensing angle cylinder measures the actual angle of the blade for high precision grading accuracy on cross-slope, blade angled or not.



"It definitely saves us time," Smith of Sellers Contracting notes. "The operator doesn't have to worry about how deep he's cutting.  He's not sitting there moving his arm up and down trying to control the blade because the machine does it all for him." Smith concludes, "From our experience, the accuracy has been dead on.  We've had projects where we have surveyors come back in and check behind us on building pads and even roadways it's always been spot on."



Robson of Komatsu America says, "The included value of all the added intelligence features on top of innovation and integration really drives up the value proposition, for both existing machine control users and new machine control users."



Barnhart of Beran Excavating adds, "We demo'd multiple pieces of equipment from other manufacturers and there was no comparison between the iMC and the (machines from) other manufacturers.  The iMC just blew it away."



Komatsu America Corp. is a U.S. subsidiary of Komatsu Ltd., the world's second largest manufacturer and supplier of earth-moving equipment, consisting of construction, mining and compact construction equipment. Komatsu America also serves forklift and forestry markets. Through its distributor network, Komatsu offers a state-of-the-art parts and service program to support its equipment. Komatsu has proudly been providing high-quality reliable products for nearly a century.  Visit the website at www.komatsuamerica.com for more information.



All comparisons are to Komatsu's conventional, non-iMC models unless otherwise stated. All copyrights and/or trademarks contained in these materials are the sole and exclusive property of their respective owners.

More from Electrical Equipment & Systems