Crawford Industries Raises Outputs with Davis-Standard XP Express(TM)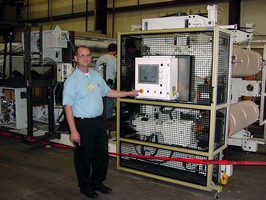 (Pawcatuck, Conn.)--A newly installed XP Express(TM) roll stand from Davis-Standard, LLC has helped Crawford Industries increase outputs on one of its extrusion lines by 120 percent. Crawford Industries, based in Crawfordsville, Indiana, is a leading national sheet extruder and converter of graphic quality PE and PP for the custom packaging and graphics arts industries. The XP Express was purchased as an upgrade to an older line and the results have been impressive. Not only have outputs increased significantly, but the company is able to change rolls in 20 minutes versus two to three hours with the old roll stand.

"The simplicity and efficiency of this machine is impressive," said John Nowotarski, plant manager at Crawford Industries' plant in Thomasville, Georgia. "It runs off a touch screen and has outstanding capabilities for fast roll changes and production of thin gauge sheet. As an added benefit, the installation was one of the easiest I've experienced in years. We were up and running within a week."

Crawford Industries has been a Davis-Standard customer since the early 1960s, purchasing extruders in various sizes and roll stands. The company's new XP Express was customized to include a cooling fan and an offset top roll. The roll stand is being used to process PP and PE thin gauge sheet with a thickness range from .01 to .045 inches (.25 to 1mm). This version of the XP Express is the "CS" version for custom sheet applications. A "PS" model is available for custom packaging applications.

The XP Express is Davis-Standard's most versatile roll stand for sheet and packaging applications, with capabilities for lamination, solution coating, auxiliary cooling, slitting and trimming, embossing and protective film. It is equipped with high-speed features, thermal cooling, individual roll speed control, repeatable roll positioning and accurate linear roll adjustment for various roll diameters in any position. The roll stand can be configured in an upstack, downstack, offset top or an offset bottom arrangement with roll cooling for three, four or five rolls. It also includes a
hands-free roll gap system with automatic roll gap control and/or load force control for additional operator safety and efficiency.

"I am not an engineer, so I appreciate being able to explain what I want to Davis-Standard's engineers without getting into the specific aspects of the technology," added Nowotarski. "They always supply exactly what I need. We will definitely look at purchasing more of these machines for future upgrades."

For more information about Crawford Industries, visit www.crawford-industries.com. For more information on the XP Express, contact Al Chrisbacher at achrisbacher@davis-standard.com.

More from Materials