Crating System is available in light-duty version.
Press Release Summary: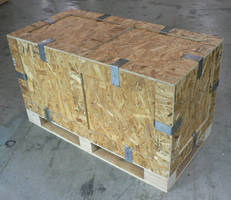 Able to be leveraged as single-use solution for businesses that do not have ability to have their crates returned, Light Duty Crate utilizes snap and insert technology with modified panel design. Snap and insert method, used instead of nails, screws, or banding, enables reuse while promoting efficiency. Design of wooden shipping crate system accelerates assembly/disassembly, eliminates tool-operating costs, reduces warehouse footprint, and creates safer,  more organized environment.
---
Original Press Release:

A New Way to Crate: SnapCrate's Light Duty Crate



SnapCrate is a wooden shipping crate system that utilizes patented  "Snap and Insert" technology rather than nails, screws, or banding. This technology makes a SnapCrate reusable while introducing a variety of warehouse efficiencies. Because of their design, SnapCrates typically take about 1/5th the time to assemble and disassemble as a typical crate, significantly reducing the cost of labor.



The new Light Duty Crate utilizes the same "Snap and Insert" technology, but has a modified panel design, reducing the initial cost of the crate an average of 30%. This reduced initial price now makes SnapCrate available as a single-use solution to businesses that do not have the ability to have their crates returned. Manufacturing companies will now be able to reduce costs of labor, maintenance, and disposal, while also taking up a smaller warehouse footprint. SnapCrate will start taking orders for the Light Duty Crate on January 14, 2013.



Everywhere the Light Duty Crate goes it adds efficiency and reduces costs through reduced labor time, eliminating tool-operating costs, reducing warehouse footprint, and creating an overall safer, organized environment. The Light Duty Crate has the potential to reduce typical crate users costs by 5%.



Stephen Schloesser

SnapCrate - Vice President of Operations



SnapCrate manufactures wooden shipping crates, is a proud winner of the 2012 Colorado Companies to Watch Award, and is located in Colorado Springs, CO. You can find out more about SnapCrate by giving them a call at (719) 540-8884 or visiting their website www.SnapCrates.com.



Timothy Howard

SnapCrate

Marketing and Digital Media Director

(719) 540-8884 x126

(866) 928-5710

thowardwfd@yahoo.com

More from Machinery & Machining Tools