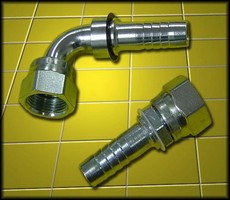 To conform to new European Standards PIRTEK USA has changed the plating on its hydraulic fitting lines.

The European automotive industry is leading these changes this with an "The End of Life Vehicle Directive" which came into effect in July 2007.

With these new regulations any company who wishes to export to an E.U. member state, will have to abide by these new Cr6 regulations.

To clearly identify the difference in the product which has the Cr6 Hexavalent Chromium removed PIRTEK has changed the color of the plating on its fittings and ferrules from a "gold" to a "silver" finish.

All fittings and ferrules currently being manufactured now have the new silver Cr6 free plating. This new silver plating is more environmentally friendly than the previous plating methods and has superior corrosion protection. This change does not change any of the assembly processes or crimping diameters of the fittings and ferrules currently being used.

If you require any further information on these new regulations please contact your local PIRTEK Hose Service Center which can be found by visiting eta1houronsite.


More from Portable Tools