CP-3002 Compactors meet ANSI and OSHA standards.
Press Release Summary: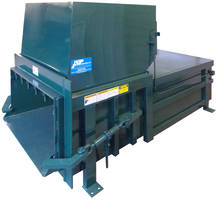 Featuring top opening of 52 in. x 58 in. and capacity of 3 cu-yds, CP-3002 Compactor with dual cylinder design provides cycle time of 52/89 sec. Offering volume displacement of 140/100 cu-yds/hr, compactor delivers force of 101,800/138,500 lb. Unit is suitable for retail outlets, transfer stations and warehouses applications.
---
Original Press Release:
SP Industries Introduces CP-3002: Heavy Duty, Dual Cylinder Stationary Industrial Compactor
SP Industries offers the CP-3002 industrial compactor. With a dual cylinder design, this compactor easily handles packaging materials, wooden skids, crates and process scraps. The CP-3002 helps lower costs by creating high density, reduced volume material, which requires less space and fewer trips to the landfill or recycling center. Compaction also keeps materials safely undercover and out of sight, preventing waste from becoming windblown debris or a source of pollution. The CP-3002 is ideal for large retail outlets, transfer stations, warehouses and other heavy industrial usage.
CP-3002/CP-3002 D highlights include:
Dual cylinder design
Large, clear top opening of 52" x 58"
Capacity: 3 cubic yards
Volume displacement: 140/100 cubic yards/hour (depending on model)
Maximum force: 101,800/138,500 lbs
Cycle time: 52/89 seconds
Numerous specialty optional equipment and design features
All SP compactors meet/exceed ANSI and OSHA specifications for safety, and are backed by the company's best-in-industry warranty program. American supplied electrical and hydraulic components are specified for reliability and easy nationwide serviceability.
ABOUT SP INDUSTRIES
SP Industries was established as a manufacturing facility in 1957, initially operating as Quality Steel Fabrication. As the name implies, the company specialized in custom fabrication, working with such companies as Caterpillar Tractor, GMC, Excello Corp. and Lockheed Manufacturing, among many others. The company also built compactor rams and frames for Spartan Waste-Pac, the original designer, patentee and manufacturer of refuse reduction equipment. After several changes in ownership, the key long-term employees created a new company, SP Industries Inc., that has maintained its position as the leading waste handling equipment manufacturer in the world. The company specializes in waste handling compaction and dumper systems tailored to the specific requirements of diverse industrial and commercial applications.
Contact:
Adam Pool
SP Industries
2982 22nd St. Hopkins
Michigan 49328
Phone: 800-592-5959
Call: 269.793.3232
Email: info@sp-industries.com
More from Cleaning Products & Equipment