Coverslipper is optimized for consistency and throughput.
Press Release Summary: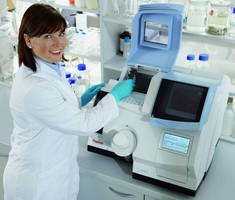 Intended for use in cytogenetics, immunohistochemistry, and cytology laboratories, ClearVue(TM) ensures coverslips are positioned correctly in relation to slides and tissue without user intervention, improving laboratory workflow and throughput. It can manage up to 11 slide racks simultaneously and automatically adjusts mountant volume. While gripper return plate with extended front face ensures correct positioning of slides, steel motor pulley enables consistent coverslip dispensing.
---
Original Press Release:

Thermo Fisher Scientific Updates Coverslipper with Enhanced Tissue Positioning Capabilities for Greater Consistency and Ease-of-Use



RUNCORN, Cheshire - Thermo Fisher Scientific Inc., the world leader in serving science, today announced the launch of its updated ClearVue(TM) coverslipper with increased ease-of-use and enhanced tissue positioning to improve consistency in cytogenetics, immunohistochemistry and cytology laboratories. The latest instrument ensures that coverslips are positioned correctly in relation to the slides and tissue without user intervention, improving laboratory workflow and increasing throughput. By enabling a smoother workflow, coverslipper enhancements help ensure that patients receive faster, more accurate diagnoses for diseases such as cancer.

The Thermo Scientific ClearVue coverslipper works by covering the portion of the slide containing tissue using a thin glass coverslip and applying a clear synthetic mounting medium to act as a bond. The latest instrument has the capability to manage up to 11 slide racks simultaneously and automatically adjusts mountant volume, allowing a smooth workflow. The upgraded ClearVue coverslipper ensures the correct positioning of slides by featuring an enhanced gripper return plate with an extended front face. Consistent coverslip dispensing is enabled by a steel motor pulley that also increases durability. Additionally, software upgrades allow the easy adjustment of slide visibility levels and the dependable covering of all slides. The instrument offers particular benefits to the cytology industry by minimizing bubble formation without the need for excessive mountant. This makes the ClearVue instrument ideal for the coverslipping of thin layer, liquid-based cytology slides that have raised fiducial marks.

The ClearVue coverslipper is a complete coverslipping system in just one instrument, accompanied by a range of approved laboratory consumables, including the ClearVue mountant and 1.0 coverglass hoppers. By utilising unique pre-filled hoppers, the loading and changing of coverslips is quick and easy without risk of environmental contamination, fingerprints or glass cuts. Additionally, ClearVue coverslips are specially designed to ease dispensing and reduce the risk of jamming caused by moisture contamination.

Thermo Fisher offers extensive training and maintenance services to ClearVue product users, ensuring ease-of-use and instrument dependability. Training is provided on operation and best practices for daily and weekly maintenance and is documented and certified for laboratory records. The company also performs pre-demo checks to ensure the use of the correct slide baskets, mountant and coverslips, as well as the existence of a xylene-rich atmosphere, which must be maintained to prevent drying and guarantee consistency.

Giulio Cerroni, Thermo Fisher's vice president of Anatomical Pathology commercial operations in Europe, the Middle East and Asia Pacific, said: "The primary objective of our anatomical pathology offering is to recognize and understand that there are patients awaiting a diagnosis. Many of the ClearVue coverslipper's features have been upgraded to enhance tissue positioning and offer improved consistency and ease-of-use, making this instrument one of the leading and most reliable coverslippers on the market. This helps Thermo Fisher further its goal of ensuring that diseases can be diagnosed in the fastest way possible, with minimal downtime and the highest productivity."

For more information about the latest Thermo Scientific ClearVue coverslipper, please call + 44 (0)800 018 9396, e-mail sales.ap.uk@thermofisher.com or visit http://www.thermo.com/pathology

Thermo Scientific is part of Thermo Fisher Scientific Inc.

About Thermo Fisher Scientific

Thermo Fisher Scientific Inc. (NYSE: TMO) is the world leader in serving science. Our mission is to enable our customers to make the world healthier, cleaner and safer. With revenues of more than $10 billion, we have approximately 35,000 employees and serve customers within pharmaceutical and biotech companies, hospitals and clinical diagnostic labs, universities, research institutions and government agencies, as well as in environmental and process control industries. We create value for our key stakeholders through two premier brands, Thermo Scientific and Fisher Scientific, which offer a unique combination of continuous technology development and the most convenient purchasing options. Our products and services help accelerate the pace of scientific discovery, and solve analytical challenges ranging from complex research to routine testing to field applications. Visit www.thermofisher.com.


More from Packaging Products & Equipment