Countersink and Chamfering Tools are indexable.
Press Release Summary: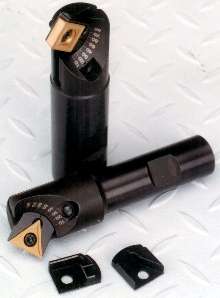 Fleximills countersink and chamfer any angle between 10-80°. Tools are supplied with 2 types of insert pockets: one for square insert (SCMT 421) and one for triangle insert (TCMT 321). Made from tool steel with nitrogen superficial treatment, tools have hardness of 60 HRC, are blacked by PVD coating, and polished for added rigidity and accuracy. Products are offered in 2 sizes: 330W-.750 (.750 shank) and 340W-1.00 (1 in. shank).
---
Original Press Release:
Fleximill(TM) Indexable Countersink and Chamfering Tools
Fairfield, NJ...Niko Trade, a division of Nikcole, Inc., is announcing improvements to its FLEXIMILL Indexable Countersink and Chamfering Tools. These new enhancements will increase your range of applications, productivity and flexibility. The Fleximills can countersink and chamfer any angle between 10° and 80°. Each new tool is supplied with two types of insert pockets: one pocket for a square insert (SCMT 421) and one for a triangle insert (TCMT 321). The tools are made from tool steel with nitrogen superficial treatment, hardness 60 HRC, blacked by PVD coating and polished for added rigidity and accuracy. The new Fleximills are being sold in two sizes: 330W-.750 (.750 shank) and 340W-1.00 (1" shank). For more information on the new FLEXIMILLS and on other Niko-Nikcole products, please call (973) 575-4353 or visit the Niko web site at: www.niko-nikcole.com