Counterbalanced Lift Truck produces zero emissions.
Press Release Summary: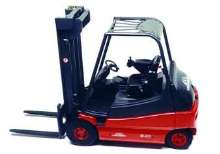 Series 336, comprising both pneumatic and cushion-tire models, provides power equal to Class IV and V internal combustion trucks for indoor and outdoor use. Encompassing four 80 V models with capacities from 5,000-6,000 lb, Models E25 through E30/600 provide travel speeds of 9 mph loaded and 10 mph empty. Digital control manages 2 shunt-wound drive motors incorporating separately excited motor technology. Combi-Axle enables truck to turn in its own radius.
---
Original Press Release:

Linde Lift Trucks, Inc., Has Introduced the Zero-Emissions 336 Series of 80V Electric Counterbalanced Lift Trucks


SUMMERVILLE, SC -- Linde Lift Trucks, Inc., has introduced the zero-emissions 336 Series of 80V electric counterbalanced lift trucks. Comprising both pneumatic- and cushion-tire models, the 80V system provides power equal to that of Class IV and V internal combustion (IC) trucks in indoor and outdoor use. The 80V system marks an improvement over conventional 36V or 48V systems by reducing current draw, internal power loss and generated heat. Encompassing four models with 5,000-6,500 lbs capacity, the Linde E25 through E30/600 range provides travel speeds of 9 MPH loaded and 10 MPH empty and with the optional AC-power S-package, 10.5 MPH and 11.5 MPH, respectively.

The 336 Series uses Linde Digital Control (LDC), an advanced drive/hydraulics/steering/diagnostics control system that manages the two shunt-wound drive motors incorporating separately excited motor (SEM) technology. LDC controls the motors for acceleration without wheel spin and modulates automatic regenerative braking upon release of the accelerator. LDC also features active steering action, which reverses the inside motor/wheel in tight quarters for minimum possible turning radius. LDC reports realtime battery condition and stores all operational data. The 336 Series also features Linde Load Control (LLC), which uses an armrest-integrated multifunction joystick to control all hydraulic mast functions. Digital control provides smooth, precise, energy-saving fingertip operation.

The 336 Series uses the Linde Combi-Axle, which combines the maneuverability of the turntable axle with the wide track and stability of the pivoting beam-type steer axle. This enables the truck to turn in its own radius, stack in narrow work areas and reduce rack and merchandise damage. The Combi-Axle also improves cornering stability by up to 30% over conventional axles.

The series offers a host of ergonomic and maintenance optimization features. Among them is the driver's cabin that can be tipped completely backwards for easy access to the batteries and all service points. Further product information on 336 Series Lift Trucks is available on the web at lindelifttruck.com/e25pe30p.htm. Contact Jacqui Berry, Linde Lift Truck Corporation, PO Box 2400, Summerville SC 29484, tel. 843-875-8366, fax 843-875-8362, email jacqui.berry@lindelifttruck.com.

More from Printing & Duplicating Equipment