Count On Tools Introduces Quad 01005 Ceramic Nozzles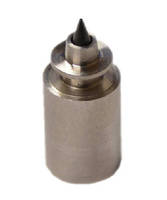 GAINESVILLE, GA -- Count On Tools Inc. (COT), a leading provider of precision components and SMT spare parts, is pleased to introduce the Quad 01005 Ceramic Nozzle. This nozzle design enables highly accurate, repeatable chip placement for 0201/01005 micro-components. The latest version of the micro-component nozzle for Quad machines measures 0.32 mm OD with a 1.00 mm ID. Count On Tools ceramic nozzles are based on a proven design that has been in use in SMT equipment for more than a decade.



According to Zach Shook, Operations Director of Count On Tools, Inc., said, "Our company understands that in order for our customers to remain competitive in today's market, they must be able to maximize the capabilities of their existing SMT assembly equipment. By creating affordable nozzles that expand the limits of what a machine is capable of picking and placing, our customers are able to increase revenue without large investments in new machines."



Count On Tools also offers a full line of products for the Quad/PPM machines, including standard nozzles and tooling, custom nozzles for odd-form components such as LEDs, replacement nozzle seals, z-rod adaptors, filters, O-rings and feeder rollers.



All SMT nozzles and consumables are guaranteed to function properly with the original equipment. Every product manufactured by Count On Tools comes standard with a 100 percent satisfaction guarantee. If any customer is not completely satisfied with the performance or quality of a product, Count On Tools will replace it or offer a full refund.



For more information about Count On Tools' nozzles and tooling for Quad equipment, visit www.cotinc.com. For ordering, please reference Quad part number 1-1587048-5C or 10-34109C.



About Count On Tools Inc.

Count On Tools Inc., a precision component manufacturer specializing in all aspects of the machining industry, has been setting new performance standards in the SMT pick-and-place nozzle market since 1991. As the ORIGINAL source for high-quality, low-cost vacuum placement nozzles and associated consumables, they have pioneered with world-class development and process engineers that combine to ensure that innovation and competitiveness is applied to all of its extensive product range. The company also stands behind its products 100% with a full warranty. Count On Tools' products are in use at many of the world's leading electronics manufacturing companies. Proven engineering expertise, coupled with the latest in design and manufacturing technology, has allowed the company to simplify the complexities of the industry and deliver a solution to its customers.



The company also maintains and supports a strong position in the hand tool industry, offering the highest quality hand tools in the world with PB Swiss Tools. These tools compliment any and all high-tech environments requiring optimum performance from both their equipment and technicians.





More from Controls & Controllers