Count On Tools Introduces PB Swiss Tools' Rainbow© Hex Key Sets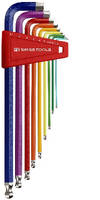 GAINESVILLE, GA - Count On Tools Inc., a leading provider of precision components and SMT spare parts, introduces Rainbow© Hex Key Sets from PB Swiss Tools.

The color-coded features of PB Swiss Tools' Rainbow© Series set them apart from the rest by giving an indication of size to every tool. PB Swiss Tools uses the latest high-tech processes to manufacture colored handles and blades to make work better, easier and more efficient.

The Rainbow® series allows users to quickly find the right hex key due to recognition of the sizes by color. The key sets feature precisely chamfered corners for easy insertion into screws. Additionally, the RainBow® series provides absolute precision and the highest regularity with tolerances smaller than a human hair.

Rainbow® hex key sets are labeled with the serial number for additional security, and to enable tracing the production back to the raw material. The key sets are chrome-plated with a powder-coated color finish for protection against corrosion.

PB hex keys feature a perfectly shaped ballpoint end that allows any user to turn the screws with an angle up to 30°. PB Swiss is the only manufacturer to offer such a large angle for ballpoint hex keys, which allows them to be more versatile for the user and very unique.

With more than 130 years of experience, PB Swiss Tools is a global leader of hand tools manufactured for use in the industrial marketplace, even for the most hazardous jobs. PB Swiss Tools has spent over a century perfecting the ideal blend of quality spring steel alloys and precise heat treating processes to develop hand tools of unrivaled quality and performance.

About Count On Tools Inc.

Count On Tools Inc., a precision component manufacturer specializing in all aspects of the machining industry, has been setting new performance standards in the SMT pick-and-place nozzle market since 1991. As the ORIGINAL source for high-quality, low-cost vacuum placement nozzles and associated consumables, they have pioneered with world-class development and process engineers that combine to ensure that innovation and competitiveness is applied to all of its extensive product range. The company also stands behind its products 100% with a full warranty. Count On Tools' products are in use at many of the world's leading electronics manufacturing companies. Proven engineering expertise, coupled with the latest in design and manufacturing technology, has allowed the company to simplify the complexities of the industry and deliver a solution to its customers.

The company also maintains and supports a strong position in the hand tool industry, offering the highest quality hand tools in the world with PB Swiss Tools. These tools compliment any and all high-tech environments requiring optimum performance from both their equipment and technicians.

More from Electronic Components & Devices