Corn Cob Dryer suitable for mass finished parts.
Press Release Summary: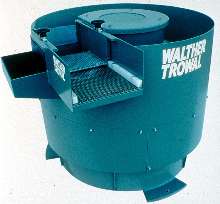 Walther Trowal® G Series of ground corn cob dryers heats ground cob with electric elements that are mounted in non-vibratory base. Vibratory motion moves parts through machine from load chute to separation screen. Model G 100 has net usable volume of 2.3 cu ft, drive power of 0.6 hp, and adjustable heating power of 4 hp. Dryers feature speed of 1800 rpm and use ratio of drying media to work pieces of 3:1.
---
Original Press Release:

Walther Trowal G Cob Dryers Ideal for Mass Finished Parts


Cincinnati, OH - (March 24, 2003) - The Walther Trowal® G Series of ground corn cob dryers are ideal for most mass finished parts. An acceptable environmental and economical solution, the ground cob meal produces spot free parts with no external heating elements or pedestals to hamper machine access. The ground cob, located in the process chamber, is heated by electrical heating elements, which are mounted in the non-vibratory base, thus providing protection for the machine's operator. The elements, which feature two heat ranges,
are directed upward to heat the steel process chambers and warm the ground cob. The machine's vibratory motion moves the parts through the machine from the load chute to the
separation screen. This is the same motion that exposes the heated ground cob to the air, allowing the water it has absorbed to evaporate. The parts load chute is standard, allowing for
direct loading from the vibratory finisher. The separation screen slides out and is easily removable and provides for multiple pass drying.

The G Cob Dryer Series features several models including the G 100, which has a net usable volume of 2.3 cubic feet, a drive power of .6 h.p., and an adjustable heating power of 4.0
h.p. All G Series Dryers feature a speed of 1800 r.p.m. and use a standard ratio of drying media to work pieces of three to one.

Founded in 1931, Walther Trowal is the oldest manufacturer of mass finishing equipment and supplies in the world. Walther Trowal has developed equipment covering a wide range of
applications in metal finishing, including radiusing, degreasing, fine finishing, surface cleaning, polishing, brightening and de-scaling and is part of the USF Surface Preparation Group.

USF Surface Preparation Group, a division of USFilter, is the global leader in providing surface preparation equipment, supplies and services. Strategically located manufac':uring and
distribution facilities allow USF Surface Preparation Group to provide unparalleled customer service and support worldwide. For more information on USF Surface Preparation Group or Walther Trowal, visit the web site at www.surfacepreparation.com or send an e-mail to info@usfspg.com.

United States Filter Corporation, a Vivendi Environnement company, is North Akmerica's largest water company providing comprehensive water and wastewater systems and services to
commercial, industrial, municipal and residential customers. Vivendi Environnement (Euronext Paris: VIE and NYSE:VE), comprised of Vivendi Water (worldwide water products ancl services), Onyx (solid waste and industrial services), Dalkia (energy management), Connex (transportation and logistics) and FCC (Spanish company engaged in environmental and construction related industries), is the largest environmental services company in the world with more than 295,000 employees, including FCC, in about 100 countries and annual revenues of more than $25.6 billion. Visit the company's web sites at www.usfilter.com or vivendienvironnement-finance.com.


More from Fasteners & Hardware