Coriolis Mass Flow Sensor has 0.001-28.0 kg/hr range.
Press Release Summary: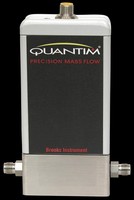 Brooks QUANTIM® QMBS meter has no moving parts where process liquids and gases flow and features fully integrated sensor, transmitter, valve, and control electronics. It provides option of installing transmitter in separate location, up to 500 ft away, and utilizes digital communications such as Modbus, FOUNDATION(TM) Fieldbus, HART®, and PROFIBUS PA. In addition to mass flow, sensor can simultaneously measure density and temperature.
---
Original Press Release:

Emerson Releases New Brooks Instrument QUANTIM® Coriolis Mass Flow Sensor



Latest model incorporates proven Brooks Coriolis sensor technology for extremely low flows in a very small package

AUSTIN, TEXAS (January 16, 2006) -- Emerson Process Management today announced the release of its Brooks Instrument QUANTIM® Coriolis family of low-flow products.

Complementing Emerson's Micro Motion Coriolis sensor products, the Brooks QUANTIM QMBS meter extends mass flow measurement to very low flow ranges of between 0.001 kg/hr to 28.0 kg/hr. The new Brooks Coriolis sensor adds to the breadth of applications for Emerson's PlantWeb® digital plant architecture.

This new Brooks QMBS model is ideally suited for metering small amounts of fluids in batch dosing processes, and metering fluids in small volume liquid filling systems, among many other uses. It is effective in flow measurement verification in metering pump systems, providing a calibration reference for other flow measurement devices.

The QUANTIM sensor has the world's smallest Coriolis footprint on the market, at about half the size of the Brooks QUANTIM model QMBC meter/controller. The QMBS sensor allows more flexibility in tight spaces by giving the customer the option of installing a transmitter in a separate location, as far as 500 feet away. A Brooks QUANTIM QTA transmitter can be selected for this function, or the customer may use an alternate device if preferred. Transmitter digital communications include Modbus (sensor output, no transmitter required), FOUNDATION(TM) Fieldbus, HART®, and PROFIBUS PA.

About QUANTIM

QUANTIM is the lowest flow Coriolis meter and controller available on the market today. Users can change liquids or gases without switching meters or recalibrating the device. QUANTIM has no moving parts in the area where process liquids and gases flow, which minimizes maintenance requirements. In addition to measuring mass flow, the device can simultaneously measure density and temperature, making it a true multivariable instrument. Piping and wiring during installation are dramatically simplified since QUANTIM has a fully integrated sensor, transmitter, valve, and control electronics. With a footprint the size of a handheld organizer, the basic model fits neatly into tight spaces.

About Emerson Process Management

Emerson Process Management (www.emersonprocess.com), an Emerson business, is a leader in helping businesses automate their production, processing and distribution in the chemical, oil and gas, refining, pulp and paper, power, food and beverage, pharmaceutical and other industries. Brooks Instrument (brooksinstrument.com) has supplied liquid and gas process control solutions to industries throughout the world. Brooks manufactures a complete line of flow measurement and control instrumentation including thermal mass, variable area, Coriolis, and positive displacement flowmeters, as well as a full line of supporting accessories. Brooks' technology and expertise play a key role in Emerson's combining of superior products and technology with industry-specific engineering, consulting, project management and maintenance services. Emerson's brands include PlantWeb®, Brooks®, Fisher®, Micro Motion®, Rosemount®, Mobrey®, Daniel®, DeltaV(TM), Ovation® and AMS(TM) Suite.

About Emerson

Emerson (NYSE: EMR), based in St. Louis, is a global leader in bringing technology and engineering together to provide innovative solutions to customers through its network power, process management, industrial automation, climate technologies, and appliance and tools businesses. Sales in fiscal 2005 were $17.3 billion. For more information, visit www.GoToEmerson.com

QUANTIM, PlantWeb, Brooks, Fisher, Micro Motion, Rosemount, Mobrey, Daniel. DeltaV, Ovation and AMS are marks of Emerson Process Management. All other marks are the property of their respective holders.

Contacts:
Todd Hannigan, Emerson Process Management, Brooks 215-362-3705, Todd.Hannigan@EmersonProcess.com

Peter Dossing, Emerson Process Management 512-832-3162, Pete.Dossing@EmersonProcess.com

Related