Coriolis Flowmeter uses self-verification technology.
Press Release Summary: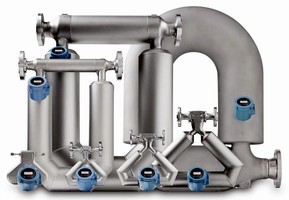 Micro Motion® ELITE® is suited for measuring flows with entrained gas, including bubble flow, slug flow, and empty-full-empty batch applications. It employs MVD(TM) (multivariable digital) technology and allows in-situ assessment of meter calibration and health. Meter verification capability assesses and tracks flow tube integrity over time. Exhibiting ±0.05% mass and volume flow accuracy and up to ±0.0002 g/cc density accuracy, meter stability eliminates need for field zeroing.
---
Original Press Release:

Emerson Announces Next Generation Enhancements to Micro Motion Coriolis Flowmeters



Enhanced digital processing and sensor design improvements deliver increased accuracy and stability, plus unique meter self-verification capability, for Micro Motion Coriolis flowmeters

BOULDER, COLORADO (June 29, 2006) -- Emerson Process Management has announced next-generation MVD(TM) (multivariable digital) technology and sensor design innovations that set new industry standards for accuracy, stability, and versatility of the company's Micro Motion® Coriolis flowmeter offering. The advances deliver breakthroughs in entrained gas measurement performance and patented self-verification technology that allow in-situ assessment of meter calibration of the company's Micro Motion® ELITE® Coriolis flowmeters.

Sets New Industry Standards of Coriolis Measurement Accuracy

The next-generation MVD technology from Emerson boosts Micro Motion Coriolis flowmeter performance to the industry's highest-ever levels of mass flow and volume flow, and is a two-fold improvement in density performance. In addition, overall meter stability is boosted to a level that eliminates the need for field zeroing. Customers benefit directly since flow measurement accuracy is key to operations efficiency, quality control, and safety.

Previously, with +/- 0.10% accuracy, the Micro Motion ELITE meter provided the most accurate Coriolis measurement available. Now, the patented new MVD technology delivers ± 0.05% mass and volume flow accuracy, and up to +/- 0.0002 g/cc density accuracy - an improvement of two times over other Coriolis meters.

For applications where precise measurement is critical, such as chemical dosing and high-value custody transfer, the new Micro Motion ELITE is the clear choice for the most accurate and consistent measurement.

Outperforms in the Widest Range of Entrained Gas Conditions

Entrained gas, also known as transient or two-phase flow, describes the flow of fluids in a pipe that shifts - by design or unintentionally - between liquid and gas, or contains both fluid states. It is a potentially problematic phenomenon for nearly any flow measurement technology, and was ranked as the key challenge for flow measurement by the NAMUR group, a German chemical industry working party of users of process automation equipment, in a recent report.

Identifying and measuring two-phase (gas and liquid) flow is difficult for flow measurement devices, often producing large metering errors or requiring an additional investment in air eliminators or flow conditioning devices. As part of next-generation Micro Motion technology, increased processing speeds and unique Coriolis sensor design are combined to solve this process dilemma, enabling accurate measurement of flows with entrained gas that include bubble flow, slug flow, and empty-full-empty batch applications.

New Micro Motion ELITE flowmeters, with next-generation MVD technology, significantly improve custody transfer metering and flow measurement applications in the manufacture of such products as film emulsions, beer (wort), glucose, liquid fertilizers, soaps and lotions, hair care products, phenols, dairy products, polyethylene, well heads, and ethylene oxide.

Self-Verifies its Calibration and Meter Health

Utilizing next-generation MVD technology, the new Micro Motion ELITE Coriolis flowmeters enable in-situ assessment of meter calibration and health, dramatically reducing flowmetering validation efforts and expense and enabling predictive maintenance that addresses meter health issues before they interrupt operation.

There are often-application specific reasons or industry standards that require periodic verification to ensure that flowmeters are operating properly. In quality assurance, meter verification is often a regulatory requirement; in hazardous processes, safety procedures and regulations may dictate periodic verification of otherwise perfectly functioning flow meters; in troublesome processes, meter verification can eliminate a flowmeter from the list of potentially-malfunctioning devices. Micro Motion meter verification capability assesses and tracks flow tube integrity over time, enabling users to predict and plan for meter replacement when it is most convenient.

Traditionally, device diagnostics have been limited to identifying failed electronics or monitoring process conditions until off-spec product or unacceptable process variations start to erode product quality or process efficiency. Business practices required stopping the process or removing the flowmeter to verify that its performance met quality, safety or regulatory requirements. Emerson's new patented self-verification technology modernizes practices with real-time, on-demand and in-place assessment of the performance of Micro Motion ELITE Coriolis meters.

The improved meter performance and next-generation MVD technology on the Micro Motion ELITE flowmeter is part of Emerson's broad range of intelligent, digital field devices that power the PlantWeb® digital plant architecture. Further cost savings, increased plant availability, and enhanced safety and environmental compliance are achieved when the flowmeters are integrated into the PlantWeb® architecture.

About Emerson Process Management

Emerson Process Management (www.emersonprocess.com), an Emerson business, is a leader in helping businesses automate their production, processing and distribution in the chemical, oil and gas, refining, pulp and paper, power, food and beverage, pharmaceutical and other industries. A division of Emerson, Micro Motion (www.micromotion.com) is headquartered in Boulder, Colorado, USA. Since inventing the first practical Coriolis flowmeter in 1977, Micro Motion has been the world's leading Coriolis flowmeter supplier, ranking #1 in both technology and customer support. Micro Motion technology and expertise play a key role in Emerson's combining of superior products and technology with industry-specific engineering, consulting, project management and maintenance services. Emerson brands include PlantWeb®, Micro Motion®, Fisher®, Rosemount®, Mobrey®, Bristol®, Daniel®, DeltaV(TM), Ovation®, and AMS(TM) Suite.

About Emerson

Emerson (NYSE: EMR), based in St. Louis, is a global leader in bringing technology and engineering together to provide innovative solutions to customers through its network power, process management, industrial automation, climate technologies, and appliance and tools businesses. Sales in fiscal 2005 were $17.3 billion. For more information, visit www.GoToEmerson.com.

PlantWeb, Micro Motion, MVD, ProLink, Fisher, DeltaV, Rosemount, Mobrey, Bristol, Daniel, Ovation, and AMS are marks of Emerson Process Management. All other marks are the property of their respective owners.

Contacts:
Lee Rumbles, Emerson Process Management, Micro Motion Division
1 (303) 527-5301, lee.rumbles@emersonprocess.com

Peter Dossing, Emerson Process Management
1 (512) 832-3162, Pete.Dossing@EmersonProcess.com

More from Laboratory and Research Supplies and Equipment