Cordless Metal Saw features 4-pole frameless motor.
Press Release Summary: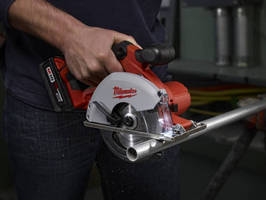 Compact M18(TM) Cordless 5-3/8" Metal Saw is powered by RED LITHIUM(TM) Battery Technology, which allows for over 200 cuts of ¾ in. electrical metallic tubing per charge. Cut guide, impact-resistant window, and LED light optimize line of sight. Tool-free depth adjustment supports cutting depth from 1/8-2 in., and stainless steel shoe prevents surface marring due to chip build-up. Saw cuts through metal conduit, strut, threaded rod, sheet metal, angle iron, and other ferrous materials.
---
Original Press Release:
Milwaukee® Introduces Cordless Metal Saw with 35% More Power
MILWAUKEE, WI - Milwaukee Electric Tool Corporation expands its M18(TM) LITHIUM-ION system with the new M18(TM) Cordless 5-3/8" Metal Saw. With an exclusive 4-Pole Frameless Motor that delivers up to 35% more cutting power, this compact and lightweight cutting tool offers the fastest cuts, longest run time and greatest control for the electrical, mechanical, plumbing and general construction contractor. "Metal Saws continue to be a growing category in the cordless tool market because they deliver an effective combination of cut quality, portability and speed," says Adam Purcell, Associate Product Manager for Milwaukee Electric Tool Corporation. "The M18(TM) Cordless 5-3/8" Metal Saw not only provides a fast, clean cut when compared to alternative metal cutting tools, it also delivers up to 40% longer run-time than the competition and provides unparalleled speed and productivity for the professional tradesman." Powered by groundbreaking RED LITHIUM(TM) Battery Technology, the new saw delivers unmatched run-time with over 200 cuts of 3/4" EMT per charge. To ensure superior cut accuracy, an extra-large cut guide, impact resistant window and LED light improve line of sight. A tool-free depth adjustment feature quickly and easily adjusts cutting depth from 1/8" - 2", while a stainless steel shoe reduces chip build-up to prevent surface marring. Complete with a METAL TECH(TM) 5-3/8" 30T Carbide-Tipped Blade, the M18(TM) Cordless 5-3/8" Metal Saw delivers cool, burr-free cuts through metal conduit, strut, threaded rod, sheet metal, angle iron and other ferrous materials. A 50T METAL TECH(TM) 5-3/8" 30T Carbide-Tipped blade is also available for cutting copper, aluminum and other non-ferrous materials. The M18(TM) Cordless Platform continues to be the fastest growing LITHIUM-ION system with over 25 tools to date. Milwaukee® is committed to the ongoing development of this platform and will continue to provide innovative solutions that offer industry leading reliability, performance and ergonomics. Specifications:
2682-22 5-3/8"Metal Saw
o 3,600 RPM
o 1/8"- 2" Cut Capacity
o 20mm Arbor
o 5-3/8" Blade Size
o 6.5" Wide
o 14" Long
o 5.8 lbs Includes 2682-20 M18(TM) Cordless 5-3/8" Metal Saw, 30T Carbide-Tipped Blade, (2) M18(TM) XC High Capacity RED LITHIUM Battery Packs, 1-Hour Charger and Contractor Bag 2682-20 5-3/8"Metal Saw
o 3,600 RPM
o 1/8"- 2" Cut Capacity
o 20mm Arbor
o 5-3/8" Blade Size
o 6.5" Wide
o 12" Long
o 4.3 lbs Includes 2682-20 M18(TM) Cordless 5-3/8" Metal Saw and 30T Carbide-Tipped Blade About Milwaukee Electric Tool Corporation
Milwaukee Electric Tool Corporation, a Brookfield, Wisconsin-based subsidiary of Techtronic Industries Co. Ltd. (TTI) (HKEx stock code: 669, ADR symbol: TTNDY) is an industry leading manufacturer and marketer of professional, heavy duty power tools and accessories. Products include the legendary SAWZALL® reciprocating saws, M12(TM), M18(TM) & M28(TM) LITHIUM-ION cordless tools, HOLE-HAWG® drills, portable band saws, circular saws, driver drills, hammer drills, rotary hammers, grinders, sanders and a line of Test & Measurement tools. Accessories include SAWZALL® blades, SWITCHBLADE® self-feed bits, BIG HAWG® hole cutters, THUNDERBOLT® drill bits and SHOCKWAVE Impact Duty(TM). For more information on the full line of Milwaukee® power tools and accessories, please call 1-800-SAWDUST or visit www.milwaukeetool.com. Milwaukee Electric Tool Corp, 13135 W Lisbon Rd, Brookfield, WI 53005-2550 United States
Related