Cordless Drill/Drivers survive multiple one story drop tests.
Press Release Summary: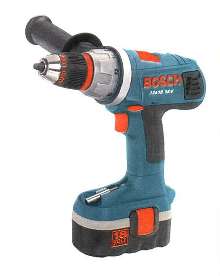 Brute-Tough(TM) drill/drivers are designed with ½ in. chuck for continuous heavy use in high torque drilling applications. Models offer 1,500 rpm (14.4 V) and 1,300 rpm (18 V) in addition to 475 lb-in. torque. Compact-Tough(TM) drill/drivers, designed for tight spaces, feature 3/8 in. chuck and come in 9.6, 12, and 14.4 V models with speeds up to 1,200 rpm (12 and 14.4 V). All drill/drivers include Dura-Shield(TM) exterior housing consisting of ABS/Nylon blend.
---
Original Press Release:

Bosch Cordless Drill/Drivers are Tough to the Core!


New tools survives multiple one story drop tests, outlasting competition

CHICAGO -September 2002 -The new Bosch cordless drill/drivers are tough to the core. Available in Brute-Tough and Compact-Tough designs, Bosch introduces five new drill/drivers as the principle tools of the expanding line of cordless products.

The professional cordless drill market is a $230M-plus industry. Recognizing the need for durable and reliable tools that professionals can count on, Bosch redesigned its line of drill/drivers to reach this large market segment. While understanding that different professionals have different needs, Bosch created the Brute-Tough(TM) drill/drivers, designed with a 1/2-inch chuck for continuous heavy use in high torque drilling applications and the Compact-Tough(TM) drill/drivers, designed with a 3/8-inch chuck and a high power to size ration for applications where flexibility and versatility are required.

"Delicate" does not describe how a professional treats any of his/her power tools, corded or cordless. Whether thrown into the back of a truck, tossed onto a shelf in a lock-box, or dropped off a ladder, a professional's tools need to be durable enough to last on the jobsite. The 14.4-volt and 18-volt Brute-Tough drill/drivers not only last, they were engineered to take some of the worst abuse ever, even a one-story/10-foot drop onto concrete, and still function as if nothing ever happened. The reasons for their unmatched durability include each new drill/driver's Dura-Shield(TM) exterior housing, which consists of an ABS/Nylon blend. Internally, a steel reinforced collar strengthens the most vulnerable part of the drill/driver; a Uni-Body Power Train maintains perfect alignment between the clutch, gearbox and motor for the most secure and durable drive train system on the market; and an all metal gear box with the largest gears on the market enables the tool's maximum power, life and durability.

Overload protections also add to the durability and longevity of each of the new Brute-Tough drill/drivers. Increased fan efficiency, improved brush quality, high heat resistant internal components and a more efficient transmission in high torque applications shield the motor under the toughest applications for extended life.

The Brute-Tough drill/drivers boast speeds up to 1500 rpm on the 14.4-volt version and up to 1300 rpm on the 18-volt drill/driver, in addition to 475+ inch/pounds of torque. These drill/drivers will soar through any jobsite with the following features: 16-position full metal chuck ring, ratcheting ½-inch single sleeve chuck with carbide jaws, ergonomic handle design, externally changeable brushes, snap hook, finger groove for optimal professional hold and 360-degree assist handle with extra bit storage. During power train overload testing the Brute-Tough drill/drivers lasted up to 30 percent longer than competitor models proving that professionals will benefit from the brute force these tools deliver and appreciate the added features on these drill/drivers.

The 9.6, 12 and 14.4-volt Compact-Tough drill/drivers were designed with a reduced profile for added convenience and maneuverability in tight, hard-to-reach spaces. Focused on applications where driving shorter screws and smaller holes such as cabinetmaking and other woodworking tasks, the new Bosch drill/drivers minimize fatigue from all day usage because they are designed to be lighter weight.

Although the Compact-Tough drill/drivers were designed to work in smaller, tighter spaces, Bosch did not skimp on features. Similar to the Brute-Tough drill/drivers, all Compact-Tough drill/drivers were created with the Dura-Shield(TM) exterior housing. An ergonomic soft-grip handle, designed for maximum comfort, and a strong power chuck with ratcheting, single-handed locking action, that grips each bit with long-lasting carbide jaws, ensures that all professionals will have the right tool for the right job.

Each Compact-Tough drill/driver comes equipped with a 16-position clutch, variable speed trigger with soft grip and a bit holder for magnetic tips or double ended bits. The 9.6-volt drill/driver boasts up to 1000 rpm with the largest torque in its class at 250 in/pounds, while the 12 and 14.4-volt drill/drivers deliver speeds of up to 1200 rpm.

The Brute-Tough drill/driver line includes:
o 33614 14.4-volt Brute -Tough Drill/Driver
o 33618 18-volt Brute -Tough Drill/Driver

The Compact-Tough drill/drivers line includes:
o 32609 9.6-volt Comlpact-Tough Drill/Driver
o 32612 12-volt Compact-Tough Drill/Driver
o 32614 14.4-volt Compact-Tough Drill/Driver

These drill/drivers are also available in multiple combo kits that include the other system tools such as planers, jig saws, circular saws and reciprocating saws. Additionally, the Brute-Tough line of drill/drivers will be available with hammer action in January 2003 in 14.4, 18 and 24-volt capacities.

About Bosch

Bosch was founded in Stuttgart, Germany in 1886. With its U.S. power tool division headquartered in Chicago, Bosch offers professionals and advanced do-it-yourselfers high-quality power tools that reflect thoughtful engineering and design, delivering efficient, creative and satisfying experiences with corded and cordless products. Long known for the innovations it has brought to the worlds of carpentry, masonry, fine woodworking and metalworking, Bosch has always been a leader in power tool design and ergonomics to ensure not only long-lasting tools, but also more effective and efficient operating practices throughout the trades. For more information on Bosch power tools, call toll free at 877-BOSCH-99 (877-267-2499) or visit www.boschtools.com.

More from Electrical Equipment & Systems