Cordless Circular Saw cuts through most metals.
Press Release Summary: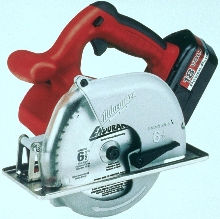 Model 6320 18-volt, 6 1/2 in. metal cutting circular saw operates at 3,200 RPM. Its premium Endurance(TM), 48-tooth, carbide blade produces smooth, burr-free edges, and cuts 2 1/8 in. deep in 1 pass. Models 6320-21 and 6320-24 include 2.4 amp-hr battery and universal 1 hr charger. Model 6320-24 offers hammer-drill with 1/2 in. all-metal chuck. Fiber-cement (40-tooth) and non-ferrous metal (60-tooth) cutting blades are available.
---
Original Press Release:
New 18-Volt, 6 1/2 Inch Metal-Cutting Circular Saw

Milwaukee's New Cordless Circular Saw Cuts Through Most Metals

Brookfield, WI (February 2002) - Milwaukee Electric Tool Corporation introduces the new 18-volt, 6 1/2-inch Metal Cutting Circular Saw, model 6320. This cordless circular saw is designed to effortlessly cut through conduit, uni-strut, angle iron and steel, copper and galvanized pipe, metal studs, spiral duct, metal roof/siding, and even black pipe. This powerful circular saw offers the most run time of any 18-volt metal cuffing saw on the market. It is ideal for electricians, plumbers, contractors, carpenters, and fire and rescue personnel.

This tool offers outstanding power and durability. A Milwaukee-built motor develops 3,200 RPM for fast cutting. A premium Endurance(TM) 6 1/2-inch blade produces a smooth, burr-free edge. The blade cuts to a depth of 2 1/8-inches in one pass, the deepest of any cordless metal cuffing circular saw on the market. Aluminum upper and lower guarding and a durable nickel-plated steel shoe provide maximum durability and protect against scratching.

The metal-cutting circular saw is ergonomically designed to provide users with optimum comfort. The lower blade guard lever is large and easy to access; the cushion grip D-handle is comfortable to hold at any cutting depth. A clear guard window and a blade on the left side provide an excellent line of sight.

All three models, 6320-20, 6320-21 and 6320-24, come with premium Endurance 48-tooth carbide blade (48-40-4015) and safety glasses. Models 6320-21 and 6320-24 include a 2.4 amp-hr battery, universal one-hour charger (48-59-0245), and contractor bag (48-55-3510). Model 6320-24 also features a hammer-drill (model 0524-20) with 1/2" all-metal chuck.

Two new premium Endurance 6 1/2-inch blades, which are offered as accessories, optimize the usefulness of this tool. A 60-tooth non-ferrous metal cutting blade, model 48-40-4005, easily cuts through materials such as copper pipe, PVC, and aluminum siding. A 40-tooth fiber cement-cutting blade, model 48-40-4025, cuts through material such as Hardi-Plank and Durock.

Every metal-cutting circular saw is backed by Milwaukee's limited warranty and Service Plus Program, providing one year of free maintenance when shipped to a Milwaukee Branch Office/Service Center.
More from Architectural & Civil Engineering Products