Cordless Battery, Tools, Accessories extend in-field runtime.
Press Release Summary: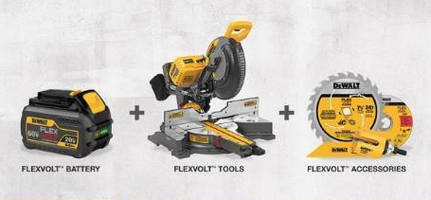 FLEXVOLT™ Power Tool and Battery System provides power comparable to that of corded tools for 20 V MAX System as well as 60 and 120 V MAX tools; 6.0 AH FLEXVOLT™ Battery automatically changes voltage when operator changes tools. Tools include circular saw, grinder, reciprocating saw, VSR stud and joist drill, table saw, fixed head compound miter saw, and sliding compound miter saw. Also available, 44 FLEXVOLT High Efficiency Accessories™ maximize runtime of cordless FLEXVOLT™ power tools.
---
Original Press Release:
DEWALT® FLEXVOLT(TM) System: More than Just a Battery
Battery + Tools + Accessories

TOWSON, Md. -- DEWALT recently announced the patented FLEXVOLT™ Power Tool and Battery System as well as FLEXVOLT High Efficiency Accessories™.

"The DEWALT FLEXVOLT™ System enhances the user experience with cordless power tools, offering both power and runtime for the jobsite. The innovative technology of the FLEXVOLT™ System broadens what's possible in the development of more capable and convenient cordless tools," said Frank Mannarino, President of Professional Products Group.

Why FLEXVOLT™
What does the FLEXVOLT™ System mean for you? It means cutting the cord once and for all. Heavy-duty corded power tool applications can now be performed with cordless tools, without sacrificing performance. The FLEXVOLT™ System offers power equivalent to corded tools, more runtime than previous cordless tools, and supports the existing 20V MAX* System as well as new 60V MAX* and 120V MAX* tools.

The 20V MAX* System from DEWALT features over 70 tools and is more popular than ever in the building and construction trades. In the landscape of cordless tools, the FLEXVOLT™ System from DEWALT changes the game by expanding capabilities of existing DEWALT 20V MAX* tools while growing high-powered tool offerings. The 20V MAX* System benefits fully from the launch of the new FLEXVOLT™ Battery, which provides up to 4X the runtime when used with DEWALT 20V MAX* tools. DEWALT also has launched a new range of FLEXVOLT High Efficiency Accessories™ to complement the system. These accessories are specifically engineered to maximize the runtime of the cordless FLEXVOLT™ power tools.

For DEWALT, innovation means developing tools that outperform expectations, enhance convenience, and improve time to project completion. Put down corded tools and pick-up a FLEXVOLT™ Battery to give your current tools a boost and power your future tools. The breadth of capabilities already offered by the FLEXVOLT™ System can only grow with huge potential for tools to come.

FLEXVOLT™ Batteries
The 6.0 AH FLEXVOLT™ Battery** is the world's first battery that automatically changes voltage when you change tools. It offers the following:
Up to 4X Runtime when used with DEWALT 20V MAX* tools
The Power of Corded when used with 60V or 120V tools
Works with 20V MAX*, 60V MAX*, and 120V MAX* (2 x 60V MAX*) tools

Coming soon: 9.0 AH FLEXVOLT™ Battery**. If you need even more runtime, look for the FLEXVOLT™ 9.0 AH Battery, giving you even more power to choose. The 9.0 AH Battery is also compatible with 20V MAX*, 60V MAX*, and 120V MAX* (2 x 60V MAX*) DEWALT tools.

FLEXVOLT™ Tools
7-1/4" Circular Saw (DCS575)
4-1/2"-6" Grinder (DCG414)
Reciprocating Saw (DCS388)
1/2" VSR Stud and Joist Drill (DCD460)
8-1/4" Table Saw (DCS7485)
120V MAX* 12" Fixed Head Compound Miter Saw (DHS716)
120V MAX* 12" Sliding Compound Miter Saw (DHS790)

We aren't finished yet. Coming in 2017 we will launch more tools which will harness the power of 60V MAX*. This is the future of power.

FLEXVOLT High Efficiency Accessories™
In addition to the power and performance offered by new FLEXVOLT™ power tools, they are complemented by the new range of FLEXVOLT High Efficiency Accessories™ from DEWALT. These accessories are Engineered to Maximize Runtime™ and were launched in tandem with the new FLEXVOLT™ power tools. The new line of accessories is optimized for use with cordless power tools and is engineered to deliver more cuts or holes per charge than standard DEWALT accessories. Each of the 44 new FLEXVOLT High Efficiency Accessories™ – including small and large diameter circular saw blades, reciprocating saw blades, hole saws, and abrasives – provide long life in tough applications. The new line of FLEXVOLT High Efficiency Accessories™ is specifically designed to fully leverage the capabilities of the FLEXVOLT™ System.

*With respect to 20V MAX* - Maximum initial battery voltage (measured without a workload) is 20 volts. Nominal voltage is 18.

*With respect to 60V MAX* - Maximum initial battery voltage (measured without a workload) is 60 volts. Nominal voltage is 54.

*With respect to 120V MAX* - Based on using 2 DEWALT 60V MAX* batteries, combined having a maximum initial battery voltage (measured without a workload) of 120 volts and a nominal voltage of 108.

**When used with 20V MAX* Tools.

About DEWALT
DEWALT is a leading manufacturer of industrial corded and cordless power tools, power tool accessories, and hand tools in categories that include Woodworking, Drilling & Fastening, Concrete & Metal Power Tools, as well as Cutting, Abrasive, and IMPACT READY® Impact Driver Power Tool Accessories. Hand Tool categories include Measuring & Layout, Knives & Blades, Mechanics Tools, and Storage Solutions.

With seven manufacturing locations in the USA, DEWALT remains committed to domestic manufacturing and produced approximately 62 million individual units of Power Tools, Hand Tools, and Accessories in the United States with global materials in 2015 alone.

DEWALT tools can be found nationally and internationally, wherever tools are sold. With more than 1,000 factory-owned and authorized locations, DEWALT has one of the most extensive service and repair networks in North America. For more information, visit www.dewalt.com or follow DEWALT on Facebook and Twitter.

Contact:
Sarah. Windham
1-410-716-3699
sarah.windham@sbdinc.com
More from Portable Tools