Copper Wire exhibits properties that facilitate IC bonding.
Press Release Summary: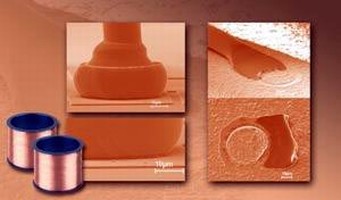 MaxSoft(TM) copper bonding wire, engineered for various discrete and IC applications, offers physical properties that help reduce IC bond pad stress and promote second bond strengths - even in fine-pitch applications. Available in diameters from 0.8-1.3 mil, wire has 6 month shelf life when stored in recommended conditions inside original packaging.
---
Original Press Release:

Kulicke & Soffa Releases a New Ultra Soft Copper Wire



Fort Washington, PA-April 25, 2007-Kulicke & Soffa Industries, Inc. (Nasdaq: KLIC) introduces the new MaxSoft(TM) copper bonding wire engineered for a variety of discrete and IC applications. This new copper wire has unique physical properties that reduce IC bond pad stress and significantly improve 2nd bond strengths.

With the new MaxSoft copper wire, customers now have a more reliable and cost-effective technology for fine wire utilized in copper wire bonding of ICs. Applications using copper wire for bonding can prove challenging since copper inherently deforms less readily than gold wire, causing higher stress on the bond pad. K&S laboratory results have shown that due to its lower wire hardness, MaxSoft reduces pad damage and provides stronger intermetallic connections.

Klaus Dittmer, K&S Director - Product Marketing for Bonding Wires, states, "In the past, copper wire bonding has had some real limitations with reliability and robustness in 1st and 2nd bond areas. Our lab results show that the new MaxSoft copper wire increases overall bond strengths and reduces stress on the pads."

Second bond strength and consistency are more challenging attributes for copper wire compared to gold wire, particularly in fine-pitch applications. This has created limitations to copper wire bonding. During K&S testing, MaxSoft obtained up to 35% higher 2nd bond pull responses compared to conventional copper wire, with increased bonding robustness.

"This new copper wire is yet another element of our total copper wire bonding solution approach. Our customers now can have a comprehensive process solution with wire bonder copper kits, CuPRA plus capillaries combined with our copper wire product line," explains Jack Belani, K&S Senior Vice President, Packaging Materials and Corporate Marketing. "Through MaxSoft, we are helping customers improve their copper wire bonding yields while providing new options for IDMs and subcontractors as they move from gold to copper. The breakthrough with MaxSoft now enables our customers to remarkably improve both 1st and 2nd bonds"

The new MaxSoft copper wire is available from 0.8 to 1.3 mil diameters and has a long shelf life of six months when stored in the recommended conditions inside the original packaging.

About Kulicke & Soffa
Kulicke & Soffa (NASDAQ: KLIC) is the world's leading supplier of semiconductor assembly equipment, materials, and technology. K&S provides wire bonders, capillaries, wire, die bonders, and die collets for all types of semiconductor packages using wire as the internal electrical interconnections. K&S is the only major supplier to the semiconductor assembly industry that provides customers with semiconductor
assembly equipment along with the complementing packaging materials and process technology that enable our customers to achieve the highest possible yields and throughput. The ability to provide these assembly related products is unique to Kulicke & Soffa, and allows us to develop system solutions to the new technology challenges inherent in assembling and packaging next-generation semiconductor devices. Kulicke & Soffa's web site address is www.kns.com.

More from Material Processing