Copper/Fiber Network Transmission Tester has wireless hotspot.
Press Release Summary: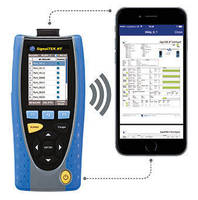 Able to simulate VoIP/CCTV/Web/IP video network traffic, SignalTEK® NT enables gigabit performance testing on passive cabling and active networks. Functionality allows automatic generation of customizable reports in PDF/CSV format, and wireless hotspot supports transfer of reports to mobile devices with AnyWARE™ app. Mobile solution sends real Ethernet data frames through cabling and to network devices to compare error rate against IEEE802.3ab, ensuring standards-based Pass/Fail result.
---
Original Press Release:

IDEAL Upgrades SignalTEK Network Transmission Tester with Wireless Connectivity



New SignalTEK NT features built-in wireless hotspot, AnyWARE™ mobile app



SYCAMORE, IL – IDEAL Networks, a global innovator in network testing, installation and management products, today announced the next generation of its industry-standard SignalTEK® copper and fiber network transmission tester: the new SignalTEK NT.



Key features:

Gigabit performance testing on passive cabling and active networks

Generates PDF test reports to IEEE 802.3ab standard

Simulates VoIP/CCTV/Web/IP video network traffic

Tests connection speed, port ID, ping, traceroute, IPv4/IPv6

Supports IDEAL AnyWARE™ App



Mobile Testing Solution

SignalTEK NT is completely mobile. New functionality incorporated allows it to automatically generate reports in PDF or CSV format that can be fully customized with company and operator details. Once the report is complete, the field technician can activate SignalTEK NT's built-in wireless hotspot to transfer reports to their mobile devices with the IDEAL AnyWARE app. These reports can then be sent to clients and project managers by email, ftp or cloud storage, resulting in greater collaboration and visibility, more on-time job completions, reduced costs, and exceeded customer expectations. Tests reports can also be downloaded onto a USB memory key.



"The SignalTEK NT rebuilds previous SignalTEK versions from the ground up, laying a strong foundation for future enhancements," said Dan Payerle, Business Unit Manager for IDEAL Networks. "It 'proves performance' that copper and fiber networks provide error-free performance up to Gigabit Ethernet transmission rates, making it the ultimate tester for technicians installing, maintaining or troubleshooting passive cabling and active Ethernet networks where system warranties are not required."



Simulates Actual Services

Unlike conventional testers the SignalTEK NT sends real Ethernet data frames through the cabling and to network devices to compare the error rate against the IEEE802.3ab Gigabit Ethernet standard, ensuring a clear standards-based Pass/Fail of the link being tested. By providing greater agility in support of unique network scenarios -- simulating actual VoIP, CCTV, web traffic, or IP video services -- it lets technicians comprehensively test and document that networks will provide flawless data transmission of that application. This testing capability is especially useful prior to adding new IP devices as it ensures that the network has enough capacity without degrading existing performance or requiring expensive upgrading. As an example, a technician adding IP cameras for video surveillance onto the network can simulate the number of cameras, resolution and compression time.



In addition, the SignalTEK NT uses Time Domain Reflectometry (TDR) to help locate common wiring faults that cause network slow transmission speeds and downtime, such as open and short circuits. It also has a number of number of time-saving functions to verify device, network and Internet connectivity including port speed and duplex status, PoE/PoE+ availability, Port ID with LLDP and Cisco discovery protocol, network configurations, and tone generation for cable tracing.



Low Cost-of-Ownership, Ease of Use

The SignalTEK NT offers an outstanding value proposition. It requires no calibration, while replaceable RJ45 contacts reduce the cost of ownership. To simply use, no configuration is needed since the two handsets automatically pair ready for testing -- just select a usage scenario to simulate the appropriate service. Either handset can be used to start testing, eliminating the need for two technicians to be on-site.



Availability and Price

The IDEAL SignalTEK NT is immediately available with an MSRP of $2,250 (USD). Customers who have previously purchased SignalTEK II & SignalTEK II FO models can upgrade their tester for the IDEAL AnyWARE app by purchasing the approved USB Wi-Fi adapter (Edimax EW-7811Un) and downloading the latest software.



Learn more at www.idealnetworks.net/us/en



Like us on Facebook



Follow us on Twitter



View our videos on YouTube



ABOUT IDEAL NETWORKS

The IDEAL Networks Division is a worldwide leader in data communications solutions. IDEAL Networks develops and manufactures network testers, network installation and management equipment for Local Area Networks (LAN), Wide Area Networks (WAN) and access telecom infrastructures worldwide.



IDEAL Networks was formed in 2010 when Wavetek and Trend Communications, previously acquired by IDEAL in 2001 and 2004 respectively, were merged with the IDEAL datacomm tools and connector divisions. The result was a new division focusing on all issues involving the installation and testing of local and wide area networks. By merging Trend's experience in the telecom sector, Wavetek's expertise in local network certification, and the years of experience that IDEAL has with datacomm tools and connectors, the IDEAL Networks Division is able to offer some of the most comprehensive networking solutions in the industry for everything from installation to testing and certification.



©2015 IDEAL INDUSTRIES, INC.  All rights reserved.  All products and names mentioned are the property of their respective owners.  While IDEAL has made every effort at the time of publication to ensure the accuracy of the information provided herein, product specifications, configurations, prices, system/component/options availability are all subject to change without notice.



Editorial Contacts:

Dan Payerle

IDEAL Networks

815-899-5820

dan.payerle@idealnw.com

More from Sensors, Monitors & Transducers