Coolers/Condensers feature copper coil construction.
Press Release Summary: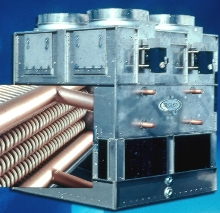 M Series closed circuit Fluid Coolers and Evaporative Condensers, with copper coil technology, perform in harsh conditions. Prop fan, constructed of glass reinforced polypropylene, pulls air through top of unit instead of pushing air out. Condensers have nominal capacity of 50 to 340 tons while Fluid Coolers range from 19 to 130 tons and can accept water temperatures up to 150 deg F. All units come with 304 stainless steel sump pans and access doors.
---
Original Press Release:
Recold's New M Series Fluid Coolers and Evaporative Condensers Feature Energy Efficient, Large Cooling Capacity with Small Footprint Design

BREA, Calif., - March 14, 2002 - Recold introduces the M Series line of closed circuit Fluid Coolers and Evaporative Condensers ideally suited for the HVAC and industrial markets. Designed with Recold's copper coil construction, the M Series incorporates a new fan technology which provides higher energy efficiencies to meet the increasing demand for reduced energy consumption and improved cost economies. Although small in footprint, the series offers cooling capacity equal to larger units and can accommodate a wide range of cooling requirements, especially where space restraints are of concern.

Recold's proven copper coil technology provides durable performance in harsh conditions and long lasting service life. The inherent properties of copper feature superior corrosion-resistance, excellent heat transfer characteristics, high strength and good workability. Copper is also smaller in size and lighter in weight than steel coils and available in several wall thicknesses to meet application requirements.

The new M Series features a specially designed prop fan with fewer blades, which pulls the air through the top of the unit instead of pushing the air out. Constructed of glass reinforced polypropylene (GRP), this fan technology provides higher static capacity and low noise operation for OEMs and contractors looking for new, energy efficient products.

Other outstanding features of the M Series include Recold's proprietary Hydrospray(TM) water distribution system. Designed with a full 360 degree spray pattern over the coil or fill, this system enables a consistent, even spray. The non-clogging nozzles
provide effective water coverage to maintain efficient heat transfer and durable PVC construction ensures long-lasting life.

The M Series Evaporative Condensers have a nominal capacity range of 50 to 340 tons while the Fluid Coolers have a range from 19 to 130 tons and can accept water temperatures up to 150°F. All units come standard with 304 stainless steel sump pans and
access doors, minimizing corrosion and providing maximum durability and extended product life. The series is available in 19 model configurations ranging in size from 4-foot x 5-foot to 8-foot x 12-foot to meet individual load requirements. All units are manufactured and tested in Recold's ISO 9002 manufacturing facility.

About Recold
Founded in 1932, Recold quickly achieved a reputation for high quality and for innovative products such as its blower coil designs, patented water defrost and the first 100 ton evaporative condenser. Today, Recold continues to provide high-quality evaporative cooling products for the HVAC, Refrigeration and Industrial markets. For further information, contact Recold, 550 W. Mercury Lane, Brea, Calif., 92821-4899; Tel: (714) 529-6080; Fax (714) 529-3603; www.recold.com

All trademarks are properties of their respective companies.

For digital file of attached slide image, please contact J2 Marketing Services at (714) 529-2527 or e-mail: cynthia-guardia@j2marketing.com

More from Material Handling & Storage