Coolant Cleaners remove grinding swarf from coolant.
Press Release Summary: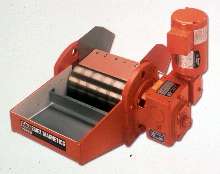 Magnetic Coolant Cleaners remove turning fines from coolants. Base models use permanent ceramic magnetic material, while models with Rare Earth magnetic roll remove iron particles down to 3 microns. Permanent ceramic magnetic indexing units are available with extended poles on magnetic roll for removal of micron-size ferrous and nonferrous contaminants. Cleaners are suited to applications that mandate clean coolant recovery.
---
Original Press Release:

Magnetic Cleaners Reduce Coolant Cost


ERIE, PA - June 2002 - Eriez' Magnetic Coolant Cleaners remove grinding swarf and turning fines from coolants helping machine tools run longer, maintain accuracy and reduce operating costs. Base models use a permanent ceramic magnetic material, while models containing a Rare Earth magnetic roll are available for removing very fine iron particles down to 3-microns.

Designed for use with surface grinders, gear grinders, honing and lapping machines, broaches, milling and drilling machines, face grinders or oil reclaiming machines, magnetic coolant cleaners are effective wherever clean coolant recover is mandated.

Permanent ceramic magnetic indexing units are available with "extended poles" on the magnetic roll to maximize removal of micron-size ferrous and nonferrous contaminants. Extended pole units can be ordered in a non-indexing model for applications where little or no non-magnetic contaminants are present in the coolant.

"Removing even small metal chips dramatically reduces expensive damage to machine tools while increasing productivity," said John Mackowski, Product Manager, Eriez Magnetics, USA. "A magnetic coolant cleaner lowers disposal costs and reduces the environmental and occupational concerns associated with the use and handling of hazardous materials."

To receive a copy of Eriez MB-2660 brochure, call toll-free in the U.S. and Canada at (888) 300-(ERIEZ) 3743 or (814) 835-6000. For online visitors, go to www.eriez.com or send email to eriez@eriez.com.

Eriez is the recognized world leader in providing magnetic, vibratory and metal detection solutions for industry. The company's magnetic lift and separation, metal detection, materials feeding, screening, conveying and controlling equipment have application in the process, metalworking, packaging, recycling, mining, aggregate and textile industries. Eriez manufactures and markets these products through eight international facilities located on five continents.

Inquiries: Keith Jones - Eriez Magnetics - 814-835-6000 or kjones@eriez.com

Eriez Magnetics
2200 Asbury Road o P.O. Box 10608 o Erie, PA USA 16514-0608 o Phone: 814-835-6000 o E-mail: eriez@eriez.com o Web Site: www.eriez.com
USA o Australia o Canada o Europe o India o Japan o Mexico o South Africa

Related