Conveyor Sorters perform positive, gentle diverting.
Press Release Summary: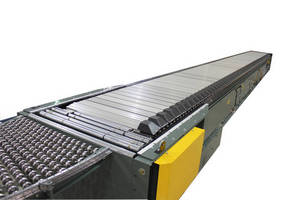 Hytrol ProSort 400 sorters handle high-speed applications where product diverting needs to be positive and gentle. Used where speeds up to 700 fpm are required and close divert centers are not critical, ProSort 421 sorts products at 22° angle. ProSort 431, used to sort products at 30° angle where close divert centers are required, can achieve speeds to 350 fpm. ProSort Elite series is offered as single-sided, positively diverting from left- or right-hand sides.
---
Original Press Release:

Conveyor Handling Company Presents the Hytrol ProSort 400 Conveyors



Hytrol's ProSort 400 Family of sorters is specifically designed to handle high-speed applications where product diverting needs to be both positive and gentle. The ProSort 421 is designed to sort products at a 22 degree angle where higher speeds are required and close divert centers are not so critical, speeds of 700 FPM are possible. The ProSort 431 is designed to sort products at a 30 degree angle where close divert centers are required and speeds of 350 FPM are possible. The ProSort Elite series is solely offered as single sided, diverting positively from left or right-hand sides.



Features & Benefits

Divert Switch

Optional divert angles 22° and 30°

• 2 high-speed divert switches

• Pneumatic, using RPT technology

• Electric, using Servo technology

• Rubber isolators for quietness and easily removable for maintenance

• Quick change design for both options which minimizes sorter down time



Conveyor Handling Company has been a leader in providing quality, cost-effective material handling solutions since 1975. Located in Elkridge on the southwest side of Baltimore, Maryland, the company has successfully partnered with customers offering them custom solutions for their unique material handling challenges. Conveyor Handling Company has developed and maintained relationships with private and public companies nationwide, as well as US and State government agencies. Furthermore, we have been recognized repeatedly by major manufacturers and integrators as a top performing solutions provider.



6715 Santa Barbara Court    Elkridge, MD 21075-5830    Phone: 877-553-2296    Fax: 410-379-0700

Related