Conveyor Rollers suit food processing industry.
Press Release Summary: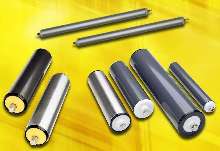 Non-motorized rollers, suited for sanitary and washdown applications, withstand corrosion and contamination. Plastic 1100 Series offers free-rolling rollers and plastic bearings with stainless steel balls in double labyrinth seal. Sanitary 1500 Series offers closed-end construction and journal bearings. Universal 1700 Series, for use with stainless steel tube, includes commercial, precision, or stainless steel bearings protected by double labyrinth design.
---
Original Press Release:

Interroll Provides Roller Series for Food Handling Industry


WILMINGTON, N.C. (February 10, 2003) - Interroll Corporation, a leading manufacturer of conveyor components for the materials handling industry announced the availability of non-motorized conveyor rollers for food processing applications. Interroll offers three series models designed to withstand washdown, corrosion and contamination through a combination of roller and bearing materials and design.

"Interroll recognizes the special needs of the food processing and handling industry," said Conveyor Components Product Manager, Kim Hagan. "We offer the broadest product line for food processing with dozens of options available according to specific application."

o Interroll's 1100 Series plastic conveyor rollers are lightweight and free-rolling with a corrosion proof finish. Plastic bearings house stainless steel balls in a double labyrinth seal that protects the roller from dust, dirt and other contaminants. Bearings may be washed or steam cleaned up to 150ºF. Tube diameters are available in .62", .75", .78", 1.12", 1.18" and 1.90" with a variety of roller lengths. The 1100 Series is ideal for light duty conveyor applications in fisheries, canneries, meat packing plants, and food equipment functions.

o The 1500 Series Sanitary conveyor roller is designed to meet the sanitary requirements of the food processing industry. The closed-end construction prevents food from becoming trapped inside the roller therefore preventing bacterial buildup. Journal bearings provide quiet, lubrication free operation for extended periods. A wide selection of tube materials are available in 1.12", 1.18", 1.90", 2.50" and 3.50" diameter. Typical applications include gravity rollers in meat and dairy processing plants and commercial kitchen applications.

o Interroll's 1700 Series Universal conveyor roller series is ideal for the food processing industry when choosing a stainless steel tube. Bearings are available in commercial, precision or stainless steel and all three are protected by a double labyrinth design to prevent dust and contaminants from entering the roller. Stainless bearings are also recommended for the prevention of corrosion during food handling and washdown applications. This roller is best for humid or moist conditions. Tube diameters are available in 1.90", 2.50", 3.15" or 3.50" and a variety of roller lengths.

For more information about Interroll and its products for the food handling industry, call 1-800-830-9680, or fax 910-799-9646, visit www.interroll.com.

A world leader in materials handling technology, Interroll manufactures a broad range of high-quality innovative conveyor components. Products include a wide variety of rollers, DC-powered roller drives, and AC-powered belt drives. With locations in more than 20 countries worldwide, Interroll provides material handling solutions to numerous industries including: parcel handling, warehousing & distribution, food processing, packaging machinery, airport security, baggage handling, beverage, pharmaceutical, electronics, and automobile.


More from Agricultural & Farming Products