Conveyor can be reconfigured to meet changing applications.
Press Release Summary: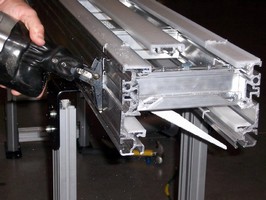 Offered in straights from 8-60 in. wide, curves 8-36 in. wide, and cleats 8-24 in. wide, 5200 Series QWIK Conveyor lets end users modify length and add or remove curves. Unlimited attachment possibilities are enabled via light-duty self-tapping screw slot, and designed-in accessory feature promotes integration of controls and accessories. Able to be shortened/extended by one person in as little as 10 min, conveyor supports load capacities to 1,000 lb (straights) and 500 lb (curves).
---
Original Press Release:

Quickly Reconfigure Your Conveyor to Meet Changing Applications with Dorner's New QWIK Conveyor



HARTLAND, Wis., (October 22, 2007) - There is literally no other conveyor of its kind on the market today.

Dorner's new 5200 Series QWIK Conveyor allows end users to modify the length, or even add or remove a curve, to adjust to changing applications. These unique design features give end users in the industrial, automation or packaging industries the ultimate in flexibility by being able to quickly and easily modify their conveyor systems when the application changes.

The new 5200 Series QWIK Conveyor is a proven time and money saver. Production lines change all the time, and the 5200 Series is designed to change right along with them. Instead of designing your own conveyor, or waiting weeks for a conveyor to arrive to accommodate a new line in the plant, the 5200 Series QWIK Conveyor can be shortened or extended, simply by one person with a few tools, in as little as 10 minutes.

Reconfiguring the conveyor is a breeze. To shorten or lengthen the conveyor, remove the plastic chain belt and simply cut the conveyor with a saw to the desired length. Remove the appropriate amount of belt links to fit the new length and tighten the screws with an Allen wrench. To add length, remove the tail and insert a new section of pre-ordered frame, and tighten with an Allen wrench. End users can also change a 90-degree curve that used to go left, and make it go right without having to purchase any additional components. It's really that easy. In no time, your line is back up and running.

The 5200 Series QWIK Conveyor comes in straights, curves and cleats, and works great in a variety of industrial, automation and packaging applications. Features of the 5200 Series include:
· Unlimited attachment possibilities with light duty self-tapping screw slot
· Designed-in accessory feature for simple integration of controls and accessories
· Designed-in air and wiring management systems
· Contained belt which eliminates sag and reduces pinch points
· Patented sprocket alignment key for quick sprocket and belt alignment
· Ships in 5 days
The 5200 Series comes in multiple sizes to fit virtually any application.
· 8" to 60" wide - straight flat belt style
· 8" to 24" wide - straight cleated belt style
· 8" to 36" wide - curve flat belt style
· Load capacity up to 1000 lbs. on straights and 500 lbs. on curves

Hartland, Wisconsin-based Dorner Manufacturing is a world leader in the design, manufacture and distribution of high-quality conveyors and related equipment. Since 1973, companies from around the world have turned to Dorner conveyors for greatly improved efficiency and productivity. For more information about products or company news, visit Dorner's Web site at www.dorner.com or call 1-800-397-8664. P.O. Box 20, 975 Cottonwood Ave., Hartland, Wis., 53029