Conveying Equipment Manufacturer to Showcase Metal Powder Transfer and Recovery System at Rapid + tct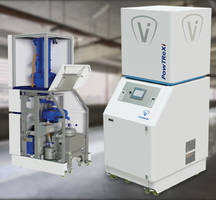 Volkmann PowTReX Automatically Transfers, Recovers Unused Metal for Reuse
Bristol, PA: At Rapid + tct booth #1108 from May 17 – 19, 2022, conveying equipment manufacturer Volkmann USA, Bristol, PA (https://www.volkmannusa.com), plans to showcase its automated PowTReX metal powder transfer and recovery system. To be on hand at the booth, the PowTReX conveying system automatically transfers metal 3D printing powders from a container or supply hopper to one or more printers then unloads, screens, and returns unused material back into the process for reuse. The powder transfer system is explosion-proof by design and suitable for hazardous and non-hazardous materials with bulk densities up to 400 lbs/ft³.
Developed to offer a safe, fast, and efficient method of metal powder transfer and recovery, the PowTReX system features the company's patented vacuum technology that generates a gentle, reliable conveying action capable of achieving high throughputs to 1,100 lbs./hr. while protecting particle integrity. The fully enclosed system eliminates the potential for powder spillage and contamination and protects workers from exposure to and contact with toxic materials.
Presentations are to be shown at the booth. To schedule a presentation at the booth in advance of the show, or at the company's Bristol, Pa. test lab, email contact@volkmannusa.com.
For more information, contact Volkmann USA, 1900 Frost Road Suite 102, Bristol, PA 19007; 609.265.0101; contact@volkmannusa.com; www.Volkmannusa.com
Media Contact:
David Nichols
+1-609-265-0101
marketing@volkmannusa.com
Paul Entin
+1-908-479-4231
paul@eprmarketing.com