Conveyer Parts Washer automates cleaning.
Press Release Summary: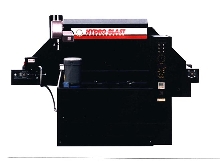 Model LM-400 Aqueous Conveyer parts washer has 4 x 6 ft footprint, allowing unit to provide part wash, wash-rinse or wash-rinse-dry cycle directly in line with parts-movement/production-line. Cost savings are realized in reducing number of employees needed to clean parts and by freeing up parts cleaning employees to work in other areas.
---
Original Press Release:
Hydro-Blast(TM) Model LM-400 Aqueous Conveyer Parts Washer

Lean Manufacturing using a Hydro-Blast(TM) Model LM-400 Aqueous Conveyer Parts Washer gives your business an profitable edge, speeding up production time by cleaning parts faster. Cost savings are also realized in reducing the number of employees needed to clean parts and by freeing up your parts cleaning employees to work in other areas. With a footprint as small as 4'x6' the LM-400 can be used in the production process by incorporating a wash, wash-rinse or wash-rinse-dry cycle directly in line with the parts-movement / production-line.

www.hydro-blast.com