DC to DC Power Supplies (Converters)
Converters boast power saving efficiency.
Press Release Summary: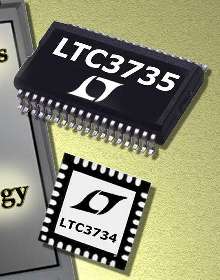 LTC3734 and LTC3735 DC/DC converters have 550 kHz operating frequency and power Intel's Centrino® mobile technology for thin and light notebook PCs. Converters are synchronous step-down DC/DC controllers with integrated MOSFET drivers and Intel® Pentium® M compatible power saving mode. Single-phase and PolyPhase® units provide up to 20 and 40 A load current respectively, with input voltages ranging from 4 to 30 V.
---
Original Press Release:

Intel Centrino Mobile Technology, Pentium M Powered by Linear Technology DC/DC Converters


MILPITAS, CA - June 9, 2003 - Linear Technology Corporation introduces two new DC/DC converters to power Intel's Centrino® mobile technology for thin and light notebook PCs. The LTC3734 and LTC3735 are high efficiency synchronous step-down DC/DC controllers with integrated MOSFET drivers and Intel® Pentium® M compatible power saving mode. The IC's high 550kHz operating frequency, on-board MOSFET drivers, current mode operation and high efficiency complement the new generation of compact, low profile wireless Intel Centrino platform notebook PCs. The high efficiency of these DC/DC controllers maximizes the power-saving features of the Centrino chipset.

Depending on the microprocessor speed and the CPU's maximum current requirement, designers can choose either the single-phase LTC3734 for up to 20A or the PolyPhase® LTC3735 for up to 40A load current capability. The LTC3734 and LTC3735 can also be used to power Pentium M processors in single-board computers, servers with multiple racks, networking servers, and communication systems.

The LTC3734 and LTC3735 operate from input supplies ranging from 4V to 30V and boast a ±1% accurate 0.6V reference voltage. The adjustable operating frequency from 210kHz to 550kHz is particularly effective in reducing noise interference in wireless notebook PCs. Both ICs feature overvoltage protection and a short-circuit shutdown timer that can also be disabled. Cycle-by-cycle current limiting and a sense resistor allow designers to accurately size the MOSFETs, inductor and output capacitors. The LTC3734 is housed in a 5mmx5mm QFN package. The 2-phase LTC3735 is offered in a 36-lead SSOP.

The LTC3734 is priced at $3.05 each and the LTC3735 at $4.45 each for 1,000-piece quantities.

Summary of Features: LTC3734 & LTC3735

o Intel Centrino and Pentium M Power Supply ICs
o Singe-Phase 20A: LTC3734, 5x5mm QFN
o 2-Phase, 40A: LTC3735, SSOP-36
o On-Board MOSFET Drivers
o Power Good Output with Adaptive Masking
o Lossless Voltage Positioning
o 4V to 30V Input Voltage Range
o High Efficiency Synchronous Operation

Company Background
Linear Technology Corporation was founded in 1981 as a manufacturer of high performance linear integrated circuits. Linear Technology products include operational, instrumentation and audio amplifiers; voltage regulators, power management devices, DC-DC converters and voltage references; comparators; monolithic filters; communications interface circuits; one-chip data acquisition sub-systems; pulse-width modulators and sample-and-hold devices; and high frequency devices. Applications for Linear Technology's high performance circuits include wireless and broadband telecommunications infrastructure, cellular telephones, networking products and satellite systems, notebook and desk top computers, computer peripherals, video/multimedia, industrial and medical instrumentation, automotive electronics, factory automation, process control, military and space systems, and high-end consumer products including digital cameras, MP3 players and other electronic products.

More from Food Processing & Preparation