Controller responds to part variation for plastic welding.
Press Release Summary: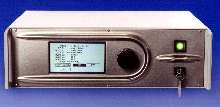 Dynamic-response USC Controller features one-button operation and is used with K Series and C Series plastic welders. It measures weld time, trigger position and weld distance, final weld position, energy, and power for each weld as it is made. Controller displays weld data graphs to help visually interpret welding process. It can store up to 20 or 200 welding programs depending on model, and it actively controls weld frequency at 20 kHz ±300 Hz.
---
Original Press Release:
New Active Controller Responds to Part Variation for Plastic Welding

Wilmington, MA...Stapla Ultrasonics is introducing a new dynamic-response controller for plastic welding systems that features one-button operation. The USC Controller is designed for use with Stapla K series and C series plastic welders.

Programmable amplitude values are held through an auto-tuning module that measures the status of the oscillating system 1250 times a second to keep it synchronized with dynamic set values for amplitude output to ensure consistent weld quality. At the same time, the controller measures weld time, trigger position and weld distance, final weld position, energy and power for each weld as it is made.

Monitoring these and other parameters enables the USC Controller to respond to variations in part dimensions where pre-set tolerance levels are established. Controller displays weld data graphs to help visually interpret the welding process, and optimize the quality of the assembled product.

The controller can store up to either 20 or 200 welding programs depending on model, and it actively controls weld frequency at 20kHz ±300Hz. Controller dimensions are 19"x6"x19" (w x h x d).

When used with Stapla plastic welding systems, the controller provides the advanced quality controls needed to weld small parts, make internal welds, and weld thermoplastic fabrics and films in production environments.

In all, Stapla ultrasonic plastic welding systems support 32 advanced features and functions including self-diagnostics, calibrated force measurements and data output to a printer or PC. In programming mode, parameters can be easily displayed, adjusted and set by turning and pressing a single control button; then protected from unauthorized changes with an access key switch.

For more information contact Stapla Ultrasonics Corporation at 375 Ballardvale Street Wilmington, MA 01876 Tel: 978-658-9400 Fax: 978-658-6550 E-mail: info@staplausa.com
More from Electronic Components & Devices