Controller is designed for 6-axis robots.
Press Release Summary: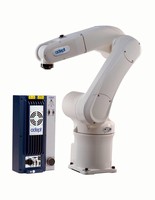 Adept MotionBlox-60R(TM) robot controller enables 6-axis robots to run on SmartServo(TM) controller technology, creating robot system suitable for medical, cosmetic, and consumer good applications. Compact, portable device installs and mounts in multiple configurations with no need for environmental cabinets and also features embedded networking and vision technology.
---
Original Press Release:

Adept Technology Introduces Industry's Smallest Controller for 6-Axis Robots



Compact MotionBlox(TM)-60R Reduces Installation Space and Integration Costs Required Of Medical, Cosmetics & Consumer Applications.

LIVERMORE, Calif. - March 27, 2007--Adept Technology, Inc. (NASDAQ:ADEP), the leading provider of intelligent vision guided robotics and global robotics services, announced the release of the Adept MotionBlox-60R(TM) robot controller, the latest addition to the Adept SmartServo(TM) line of compact controllers. The MotionBlox-60R is designed to eliminate high cost cabling and the need for environmental cabinets typically used in industrial applications, reducing the costs and complexity of automation integration.

The MotionBlox-60R controller enables 6-Axis Robots to run on Adept's powerful and compact Adept SmartServo(TM) controller technology, creating an ideal robot system for medical, cosmetic and consumer good applications. The compact design of the MotionBlox-60R provides greater portability and flexibility, making it easier to install and mount in multiple configurations. And with embedded networking and vision technology, the MotionBlox-60R simplifies, and lowers the costs of integration.

The MotionBlox-60R has a working footprint that is 3 times smaller than Adept's previous 6-Axis controller, and 8 times smaller than the leading competitor's controller.

"As end users continue to lean out their operations, floor space is now a premium," says ARC Research Director Sal Spada. "Adept's MotionBlox-60R simply eliminates industrial enclosures placing the automation components within the envelope of the machine. The entire value chain benefits from these advances as machine builders lower costs and reduce time to market. Manufacturers gain floor space, decrease takt time, and gain tremendous flexibility in rapid reconfiguration of production operations by moving a robotic system as a single component."

Adept Viper robots also come with access to the latest in Adept software, controls and Adept's 24/7 service and support, delivering a higher level of robot performance.

About Adept Technology
Adept Technology, Inc. designs, manufactures and markets robotic systems, motion control and machine vision technology for global markets including automotive, consumer electronics, consumer goods, food, industrial tooling, medical devices, and pharmaceutical. Adept robots, controllers, and software are used for small parts assembly, material handling and packaging. Adept intelligent automation product lines include industrial robots, configurable linear modules, machine controllers for robot mechanisms and other flexible automation equipment, machine vision, and systems and applications software. Founded in 1983, Adept Technology is the largest U.S.-based manufacturer of industrial robots. More information is available at www.adept.com.

More from Architectural & Civil Engineering Products