Controller facilitates DC electric fastening.
Press Release Summary: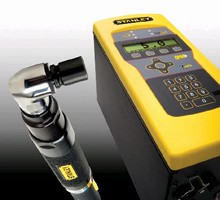 Designed to optimize DC electric threaded fastening for error proofing, Kappa Controller measures actual torque and compares it to quality limits. Unit counts fastened bolt and detects cross-threads, rehits, and slip-offs. Compatible with full range of QPM DC electric tools from 0.6-2,000 Nm and higher, controller includes Adaptive Tightening Control, which automatically adjusts for different joint designs and part variations during each tightening cycle.
---
Original Press Release:

Stanley Raises The Bar For Error Proofing With A New Kappa Controller For DC Electric Fastening



Stanley Assembly Technologies announces the new Kappa controller, designed to optimize DC electric threaded fastening for error proofing. The Kappa controller measures actual torque and compares it to quality limits, whereas other methods like current control can only estimate torque. The Kappa controller is also compatible with the full range of QPM DC electric tools, from 0.6 to 2000 Nm and higher. A single DC electric tool can be set up to assemble joints of different target torque levels - unlike air tools, which require separate tools for each torque level. Kappa features include:

o Large data display with softkey navigation for ease of use
o Parameter Wizard for simplified setup
o Embedded toolbox software, which runs on a Web browser and enables analysis of tightening results fed directly from the Kappa controller
o Counts fastened bolts and detects cross-threads, rehits, and slip-offs

The Kappa system includes Adaptive Tightening Control (ATC), which automatically adjusts for different joint designs and part variations during each tightening cycle. ATC dynamically manages speed and power to the motor in order to control fastening. Other methods, such as current control, require special software and setup to account for different joint types.

"Error proofing with the Kappa controller verifies that the correct number of fasteners are installed to specification. That's important for the bottom line in manufacturing," noted Doug Versele, Global Product Manager, Stanley Assembly Technologies.

For additional information, contact Stanley Assembly Technologies at (440) 461-5500 or visit www.StanleyAssembly.com. Stanley Assembly Technologies provides solutions to the global assembly market, including the motor vehicle industry. Core solutions include high-performance Stanley® DC electric and pneumatic tightening tools and controllers, conventional pneumatic articulating arms, torque tubes, and Cobotics(TM) Intelligent Assist Devices for ergonomic material handling.

The Stanley Works (NYSE: "SWK") is a worldwide supplier of consumer products, industrial tools, and security solutions for professional, industrial, and consumer use. Consumer products include hand tools, mechanics tools, tool storage, and hardware. Industrial tools include fastening systems, auto assembly tools, storage systems, professional laser measuring and leveling tools, and hydraulic attachments. Security Solutions includes the integration and supplying of security systems and access control solutions, including automatic door and locking systems for commercial applications.

Our innovative Consumer and Industrial products help people utilize their skills, express their creativity, and realize their visions on work sites around the globe. Brand names include Stanley®, Husky®, Cobotics(TM), Goldblatt®, Bostitch®, Jensen®, Mac®, Proto®, LaBounty®, Vidmar®, CST®, David White® and Zag®. Our Security Solutions brands include Stanley®, Best®, Blick® and Frisco Bay®.

Client: Stanley Assembly Technologies
Contact: jjerdonek@stanleyworks.com
Phone: (440) 229-9573
Fax: (440) 461-8693

More from Software