Control Station regulates and maintains water temperature.
Press Release Summary: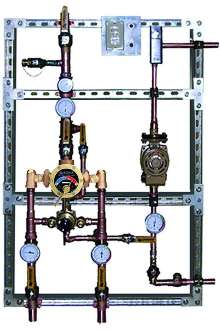 Megatron® is designed for hot water systems in new building construction and renovation applications. System components are mounted on galvanized strut. Dial thermometers on hot, cold, mixed, and return piping lines provide complete system monitoring. Mixed water capacity is from 0.5-190 gpm. Integral return piping incorporates circulator, aquastat, check valves, bypass piping, and balancing valve.
---
Original Press Release:

Megatron® Control Station from Leonard Regulates Water Temperature for Hot Water Systems in New Building Construction and Renovation Applications


CRANSTON, RI - Megatron®, a complete prepackaged control station designed to regulate and maintain water temperature for hot water systems in new building construction and renovation applications, is currently available from Leonard Valve Company.

All Megatron Complete Water Temperature Control Stations are furnished factory assembled and tested with all inlet, outlet and return piping for fast, quick, easy and money-saving installation.

Megatron Systems solve virtually all problems associated with oversized and improperly piped thermostatic water mixing valves. All system components, including dual valves, outlet test connection, balanced return piping and circulator, are mounted on a galvanized strut.

Integral return piping on the Megatron incorporates a circulator, aquastat, check valves, bypass piping and balancing valve to eliminate the possibility of piping installation error. The outlet test connection arrangement, ball valve shutoffs on each mixing valve outlet and on hot and cold supplies, ensures ease of installation and setup.

Megatron Systems also come with a high/low manifold system with large and small Type TM Water Mixing Valves to meet high/low demands for mixed water. Dial thermometers on hot, cold, mixed and return piping lines provide complete system monitoring. Additional features of the Megatron include:

o DURA-trol® solid bimetal thermostatic control

o Adjustable high temperature limit stops set for 120°F

o Mixed water capacity from 0.5 - 190 GPM (1.9 to 719 l/min.)

o All bronze, brass and stainless steel construction

o Automatic extended high-low system thermostat warranty

Since 1913, Leonard Valve Company has been the quality leader in the manufacture of thermostatic water mixing valves. All Leonard water temperature control products are made of the highest quality materials and manufactured to the most critical engineering specifications. For more information on the Megatron® contact Leonard Valve Company, 1360 Elmwood Avenue, Cranston, RI 02910; Phone: (800) 222-1208; Fax: (401) 941-5310;

Email: info@leonardvalve.com;or visit: www.leonardvalve.com.

Send inquiries to: Leonard Valve Company, 553 N. North Ct., Suite 110, Palatine, IL 60067 or e-mail to leads@interlinegroup.com

For more information contact:

Jim Nowakowski 847-358-4848 or

Greg Wilcox (800) 222-1208